Floor Wages Manner of fixing CHAPTER III: Draft Code on Wages (Central) Rules 2020 : Notification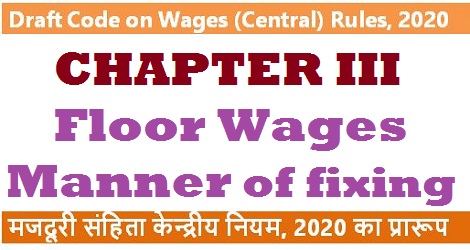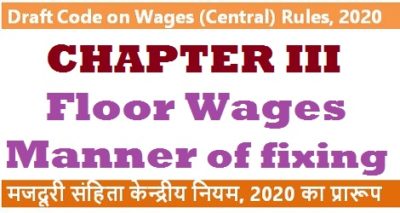 CHAPTER III
Floor Wages
11. Manner of fixing floor wage.—(1) The Board shall be consulted by the Central Government for the purpose of fixing the floor wage under sub-section (1) of section 9, taking into account the minimum living standard including the food, clothing, housing and any other factors considered appropriate by the Central Government from time to time of the standard working class family as specified in clause (i) of sub-rule (1) of rule 3.
(2) The advice of the Board obtained in consultation under sub-rule (1) shall be circulated by the Central Government to all State Governments for consultation with them.
(3) The advice of the Board referred to in sub-rule (2) and the views of the State Governments received in consultation referred to in that sub-rule shall be considered before fixing the floor wage under sub-rule (1).
(4) The Central Government may revise the floor wage fixed under sub-rule (1) ordinarily at an interval not exceeding five years and undertake adjustment for variations in the cost of living periodically in consultation with the Board.
Payment of Dues Claims etc Chapter VII: Draft Code on Wages (Central) Rules 2020 : Notification 
11 A.—Circumstances under clause (ii) of the proviso to section 10.—An employee shall not be entitled to receive wages for a full normal working day under section 10, if he is not entitled to receive such wage under any other law for the time being in force.
12. Manner of consultation with State Governments.—The Central Government shall obtain the advice of the Board and consult such State Governments as it thinks necessary before fixing the floor wage under rule 11.