Guidelines for e-Privilege Pass/PTO Module of HRMS: Railway Board Order
GOVERNMENT OF INDIA
MINISTRY OF RAILWAYS
RAILWAY BOARD
No PC-VII/2020/HRMS/6
New Delhi, dated 14.08.2020
All General Managers, Zonal Railways.PSU, NAIR, Training Institutes,  (As per Standard Mailing  List)
Chairman & Managing Director, IRCTC, 11th Floor, Statesman House, New Delhi
Managing Director, CRIS, Chanakyapuri, New Delhi.
Sub: Guidelines for e-Privilege Pass/PTO Module of HRMS
With a view to promote digital/paperless ticketing, E-Privilege Pass/PTO Module of HRMS has been launched on 10.08.2020 and the same has been operationalised across all Indian Railways. In order to facilitate the same, data entry in two modules of HRMS, Employee Master and E-SR has almost been completed across all Zonal Railways.
2. The salient features of E-Privilege Pass/PTO module are as under :- –
(i) E- Privilege Pass/PTO module shall be available initially to all serving employees of Indian Railways w.e.f. 24.08.2020 and privilege pass/PTO generated through digital mode can be utilised for booking physical tickets across PRS/UTS counters and online tickets through IRCTC.
(ii) The user guidelines and SOP of this module provided by CRIS are enclosed herewith.
(iii) No convenience fee shall be levied by IRCTC in case of online booking of tickets using E-Privilege Pass/PTO.
(iv) The provision of physical passes shall also be there upto 31.10.2020. Employees who wish to avail privilege Pass/PTO in the physical form can avail the same during this period. However, from 01.11.2020 onwards, Privilege Passes/PTOs will be available only in the digital form.
(v) The Complementary passes for retired employees in digital mode will be available tentatively wef 1.10.2020. The details of the scheme will be circulated in due course.
(vi) Those employees who have once switched to E-Privilege Pass/PTO module shall not be able to avail physical passes.
(vil) There will not be any restriction on using the physical pass availed till 31.10.2020 for booking the tickets through PRS/UTS counters till the validity of physical privilege pass/PTO. Since as per extant instructions validity of privilege Passes/PTOs is five months, w.e.f. 01.04.2021, there shall be no booking on. physical passes across computerised Passenger Reservation System (PRS)/Unreserved Ticketing(UTS) counters.
(viii) For reserved journey, ticket should be taken from PRS counter/IRCTC website. For unreserved journey, ticket should be taken from UTS counter/UTS Mobile App.
(ix) All rules pertaining to booking of ticket, revalidation, usage, charging etc. regarding privilege pass/PTOs in case of physical passes/PTOs shall remain same in e-privilege passes/PTO, with minor operational amendments, where ever required.
3. Necessary instructions may be issued to all concerned. The user guidelines and the SOP of this module may please be circulated amongst all concerned through all possible modes including e-mail, Notice Board etc. to create awareness.
4. This issues in consultation with the Establishment and Traffic Commercial Directorates of this office.
5. The above instructions along with enclosures have been uploaded in website – http:/'www.indianrailways.gov.in'railwayboard'> Corporate Overview > Directorates > Pay Commission > Pay Commission- VII.
Annexure : E-pass – User Manual/Consolidated guidelines
(Mahendra Kumar Gupta)
Executive Director/PC-I
Railway Board
No PC-VII/2020/HRMS/6 New Delhi, dated. 14.08.2020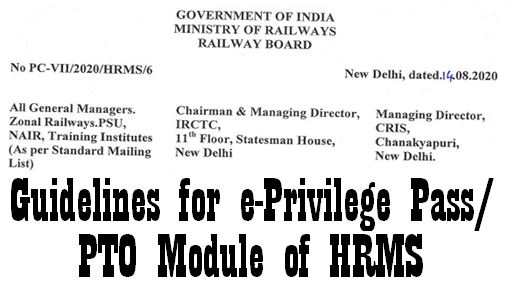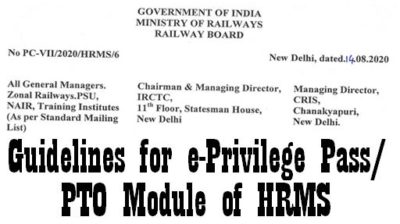 Click here to view/download the This Order and User Manual/Consolidated guidelines