Vacancies of Judges in Supreme Court and High Courts as on 03 Feb 2021
GOVERNMENT OF INDIA
MINISTRY OF LAW AND JUSTICE
LOK SABHA
STARRED QUESTION NO: 29 ANSWERED ON: 03.02.2021
Vacancies of Judges in Supreme Court and High Courts
Kalyan Banerjee Will the Minister of LAW AND JUSTICE be pleased to state:-
a) whether there are four vacancies of judges in the Supreme Court and another 411 vacancies of judges in 25 High Courts in the country including 38 vacancies in Calcutta High Court and 30 each in Bombay and Delhi High Courts; b) if so, the action taken by the Government to fill up these vacancies during the last two years; and c) the time by which all the vacancies are likely to be filled up for early disposal of cases?
ANSWER
The MINISTER OF LAW AND JUSTICE, COMMUNICATIONS AND ELECTRONICS & INFORMATION TECHNOLOGY
(SHRI RAVI SHANKAR PRASAD)
(a) to (c): A Statement is laid on the Table of the House.
Statement referred to in reply to parts (a) to (c) of Lok Sabha Starred Question No. 29 due for answer on 03.02.2021 regarding "Vacancies of Judges in Supreme Court and High Courts"
(a) to (c): As on 01.02.2021, there were 4 vacancies of Judges in the Supreme Court and 419 vacancies of Judges in 25 High Courts. Further, there were 31, 30 and 40 vacancies of judges in the High Courts of Delhi, Bombay and Calcutta respectively.
As per Memorandum of Procedure for appointment of High Court Judges, the proposal for appointment is initiated by the Chief Justice of the concerned High Court. Government appoints only those persons as Judges of High Courts who are recommended by Supreme Court Collegium (SCC). During the last 3 years i.e. 2018, 2019, 2020, High Court Collegiums made 505 recommendations, out of which 177 names, which were recommended by SCC were appointed by the Government as High Court Judges in various High Courts. 134 names were rejected by SCC and remitted to High Courts and remaining 194 proposals received from various High Court Collegium are under various stages of processing with Government and SCC.
Filling up of vacancies in the High Courts is a continuous, integrated and collaborative process between the Executive and the Judiciary. It requires consultation and approval from various constitutional authorities both at state and central level. Hence, the time for filling up of vacancies of the Judges in the higher Judiciary cannot be indicated.
While every effort is made to fill up the existing vacancies expeditiously, vacancies of Judges in High Courts do keep on arising on account of retirement, resignation or elevation of Judges and also due to increase in the strength of Judges. During the period from May, 2014 to 2021 (till 1.2.2021), the details of appointment in the Supreme Court and the High Courts are as follows:-
• 35 Judges were appointed in Supreme Court of India • 570 fresh Judges were appointed in the various High Courts • 520 Additional Judges were appointed as Permanent Judges of High Courts
Government is committed to filling up of vacancy expeditiously in time-bound manner.
Sanctioned Strength of Judges: Supreme Court and various High Courts in the country as on 3 Feb 2021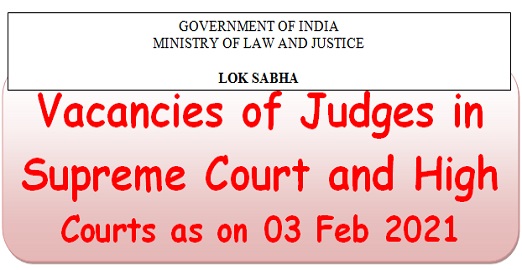 Source: Loksabha