Implementation of the recommendation of 6 CPC with regard to Limited Departmental Competitive Examination for posts in Group "B" and Group "C": Item No. 6 Standing Committee Meeting
AGENDA DISCUSSED DURING THE STANDING COMMITTEE MEETING HELD ON 26.2.2021 – DECISIONS TAKEN
A. Unresolved Items of the Earlier SCM held on 7.3.2019
Item No. and Ministry / Deptt.: Item No. 6 Ministry of Defence
Subject

: Implementation of the recommendation of 6 CPC with regard to Limited Departmental Competitive Examination for posts in Group "B" and Group "C"

Decision in the Meeting of 7.3.2019: Joint Secretary (Establishment) stated that instructions in this regard are very clear for LDCE, for which the post in immediate feeder grades and other posts with certain eligibility conditions (namely; educational qualifications and residency period etc.), depending upon the grade pay of the feeder grades are prescribed. Normally residency period is half of the period required for promotion as prescribed. For LDCE being eligible for all posts in the feeder grade without residency, this provision is not justifiable. For example, for the purpose of LDCE conducted for the post with Grade pay 4200/-, both posts in Grade Pay 2800/- and 1800/-, are treated equally as per 6th CPC recommendation, if accepted.

Staff Side stated that M/o Defence is not allowing LDCE Exam. for those who possess higher qualification. As a result, all these employees retire in same grade.

Staff Side demanded that qualified Departmental candidates may be allowed to appear for LDCE without any restrictions, since the employee is considered for promotion through LDCE, only after qualifying the examination.

Chairman directed M/o Defence to send a proposal at the earliest to amend the RRs in this regard.

Status as on 25.02.2021: An updated status is awaited from Ministry of Defence.

Discussions/Decision on 26.02.2021: The Staff Side stated that it is a conscious decision of the 6th CPC to permit an employee with appropriate qualification for direct requirement to appear in the Departmental examination even for Group B post. In other words, if an MTS holds qualification for a direct recruitment in the grade pay of 4800/-, he/she may be permitted to appear in the Departmental examination in the same.

This demand of the Staff Side and recommendations of the 6th CPC would be further studied by DoP&T.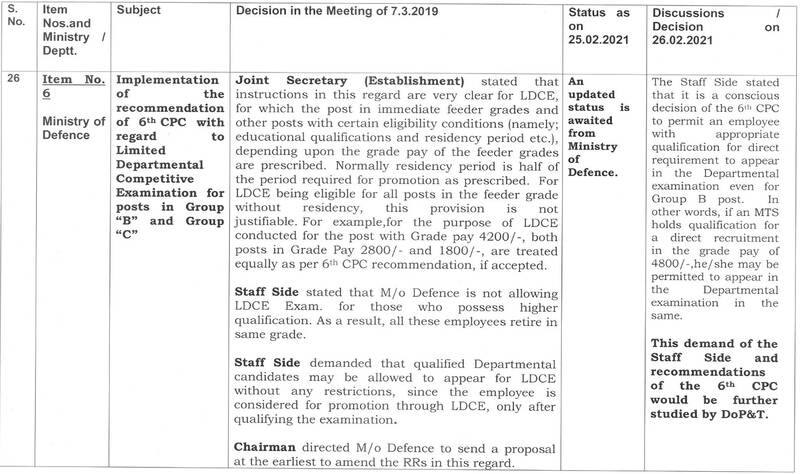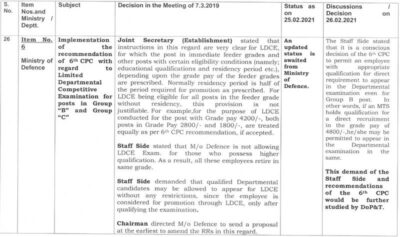 View other Items of Standing Committee Meeting: