Provision of telecom facilities and reimbursement to officers of DoT: Circular dated 30.03.2021
No. 2-3/2018-PHP
Government of India
Ministry of Communications
Department of Telecommunications
603 , Mahanagar Doorsanchar Bhawan, Old Minto Road
J.L.N. Marg. New Delhi – 110002
Dated the 30 March, 2021
CIRCULAR
Subject : Provision of telecom facilities and reimbursement to officers of DoT – regarding
In continuation to this office Circular No. 2-3/2008-PHP dated 08.10.2018 vide which this office endorsed Finance Division, DoT O.M. No. 9-35/2017-18-Fin. dated 11.04.2018 for reimbursement of telecom facilities used by the officers of DoT as per their Rank/Designation in accordance with the ceiling limits fixed by Department of expenditure vide their O.M dated 26.03.2008 and to state that as per the approval of Union Cabinet for mandatory utilization of network of BSNL/MTNL by the Department/Ministries of Union of India.
2. It has now been decided with the approval of the competent authority that for availing reimbursement facilities, the officers of DoT can only use the network of BSNL/MTNL for their Residential Service Telephone Connections (RSTC) 1.e Landline/Broadband/ FTTH/ datacard facilities and they can use network of any service providers for their GSM Service mobile connections. The officers can only reimburse their service landline/broadband/FTTH/datacard facilities if they furnished the bills of BSNL/MTNL w.e.-f. 01.04.2021.
3. The other eligibility conditions and ceiling limits for reimbursement of service telecom facilities will remain same as notified vide Finance Division, DoT O.M. No. 9-35/2017-18-Fin. dated 11.04.2018.
4. This issues with the approval of Competent Authority.
Sd/-
(S.K. Balyan)
Asst. Director General (PHP)
Copy to.
1. PS to Hon*ble MoC. .
2. PS to Hon'ble MoS(C)
3. PPS to Secretary(T), Addl. Secy(T), Member(S)/ Member(F)/ Member(T), DoT
4. PPS to Advisor(T)/ Advisor(O)/ Advisor(F)/ Legal Advisor/ Administrator, USOF, CVO, DoT
5. All Sr. DDsG/DDsG, DoT Hq
6. All Directors. Dy. Secy, DoT Ha.
7. All field units of DoT CCAs/LSAs/TEC. NTIPRIT. NICF
8. Cash Section, DoT Hq.
9. Director(IT), DoT for uploading the circular in DoT website.
10. Guard File.
11. Notice Board, DoT.
12. Office Copy.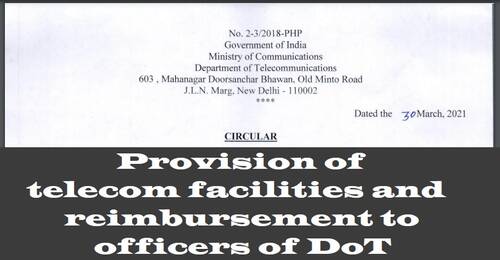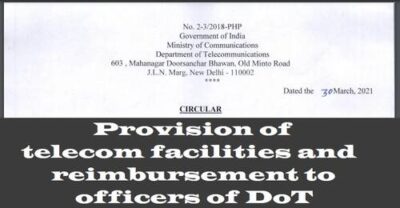 Source PDF: Click here to view/download