Timely payment of pensionary benefits to the retiring railway employee – Part D of Master Circular No. 53(2021) RBE No. 18/2021
GOVERNMENT OF INDIA (BHARAT SARKAR)
MINISTRY OF RAILWAYS (RAIL MANTRALAYA)
(RAILWAY BOARD)
M.C. No. 53(2021)
RBE No. 18/2021
No. D-43/14/2019-F(E)III
New Delhi, dated:10.03.2021.
Part D
Orders and procedure to be followed for timely payment of pensionary benefits to the retiring railway employee.
*******
Delay in sanction of the payment of pensionary benefits involves hardship to the retiring employee. It is therefore imperative that the authorities dealing with the applications for pensionary benefits should act expeditiously so that the beneficiary receives his dues on due date. When delay is anticipated in sanction, the retiring employee may be granted provisional pension/gratuity or family pension/death gratuity, as the case may be on the basis of the information available with the head of the Office or the Railway Servant. Detailed procedure to deal with such cases as well as the procedure to be followed for sanctioning the pensionary benefits in time as issued from time to time are as under:-
| | | |
| --- | --- | --- |
| I) | F(E)IIIn6/PN1/3 | dt. 08.04.76 |
| II) | F(E)IIIn6/PN1/3 | dt. 15.10.76 |
| Ill) | E(G)/76/PN1/25 | dt. 19.11.76 |
| IV) | F(E)III/79/PN1/3 | dt. 01.09.1979 |
| V) | F(E)III/87/PN1/2 | dt. 06.03.1987 |
| VI) | F(E)III/87/PN1/2 | dt. 19.08.87 |
View:  Pension Scheme on Railways and Pension options for the employees governed by Provident Fund Scheme – Part A – Master Circular.
2. Order dated 08.04.1976 prescribes the time table to commence the work of preparing pension paper for payment of superannuation pension, procedure for determining qualifying service, average emoluments, treatment of extraordinary leave, period of suspension , break in service, period of deputation/foreign service dispensation of the requirement of administrative sanct ion to grant pension, procedure for payment of provisional pension where service records are not available, adjustment of government dues etc. Similarly orders dated 01.09.1979 prescribes details for finalising cases to grant pensionary benefits to the families of employees who die while in service.
View:  Retirement benefits under Pension Rules – General Rules – Part B of Railway Board Master Circular No. 53(2021) RBE No. 18/2021
3. In all cases, efforts are made to assess and adjust the recoverable dues within a period of 3 months from the date of retirement of Railway servant concerned . In any case, it is to be presumed that there is no claim against a Railway servant if none is made after his retirement within 15 months – if commercial debits are involved, and 6 months, if commercial debits are not involved.
In the case of retiring commercial staff, the limit of 15 months has been reduced to 6 months for payment of gratuity w.e.f. 01.08 .88 which has further been reduced to 3 months w.e.f. 30.12.91.
(Para 323 (iv) (b) of MRPR and Board's letter No. F(E)III/87/PN1/1 dated 17.11.87 & 30.12.91)
View: Retirement benefits for railway employees absorbed in Public Sector Undertakings – Part C of Master Circular No. 53(2021) RBE No. 18/2021
4. Cases of Railway Servants whose retirement occurs ahead of superannuation , the procedure for making payment of pensionary benefits in such cases is detailed Board's letter No. E(G)/76/PN1/25 dated 19.11.76.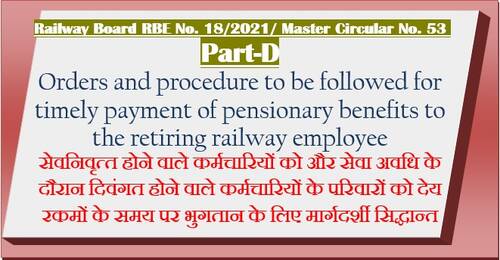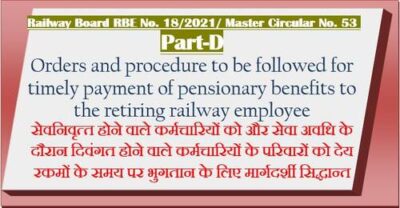 View: Pension Scheme on Railways and Retirement Benefits on absorption in Public Sector Undertakings/Autonomous Bodies: Master Circular – RBE No. 18/2021