Work From Home For Central Govt Employees Ordered; Hybrid Model Will Be Introduced Soon
As per the newest reports coming in some central government employees will now be made to work from home. The number of COVID-19 infected people is on the rise and this measure has been taken to deal with the same.
Read on to find out why the government employees will be asked to work from their homes henceforth.
Central Government Employees Asked To Work From Home
The department secretaries have been informed of this new measure by the Department of Personnel and Training (DoPT) informally. The secretaries have been instructed to set a limit to the attendance in offices so that the measures of social distancing and other COVID-19 protocol have been met.
Additionally, they have also been instructed to assess the attendance of employees in the ministries. Further, this attendance should also be limited so that the further spread of the dangerous disease is put to a stop.
And as secretaries review the attendance, some of the employees will be told to work from home
Initially, government departments had allowed 30% of staff on a rotation basis to rejoin the offices which soon turned into the entire workforce coming into the workplace in the past few months.
Existing Attendance System To Be Reassessed By Government Officials
Multiple ministries have also allowed their employees to work from home in case they ask for it on the basis of exposure or co-morbidity. The existing attendance system will be reassessed by government officials after the advice of the DoPT.
Attendance due to COVID-19: PCDA (CC) and the sub offices shall work at 50% strength in Office and 50% strength work from home
Non-submission of report on post check of bills passed during COVID-19 and System security protocol for Work from Home
Last week, an Empowered Group of Ministers have re-examined the protocols for work from home that were implemented last year during the nationwide lockdown; however, a final decision has not yet been passed.
Last year in May, the DOPT had drafted a work from home protocol for Bureaucrats with Flexi timing schedules, handling of confidential documents, disposal of VVIP references, and also made sure that the confidentiality of the government communication in electronic mode has been preserved after consulting several ministries. This framework aimed at ensuring that there is no impact on the productivity if a great number of employees work from the safety of their homes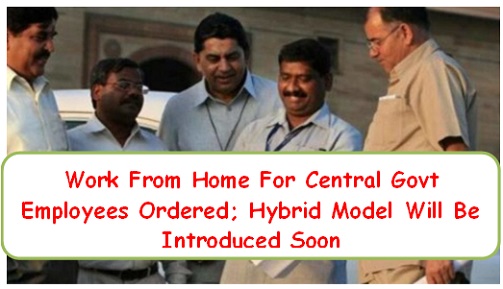 Source: Click Here to Read more