Unauthorized communication/revelation of classified information – CGDA order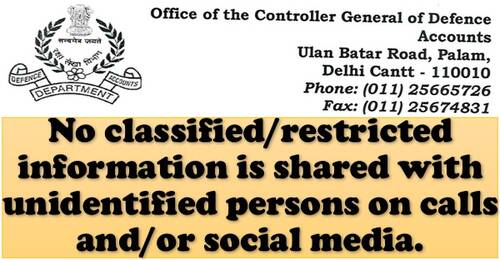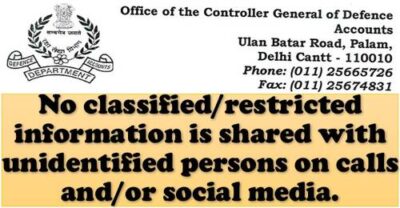 कार्यालय रक्षा लेखा महानियंत्रक
उलान बटार रोड, पालम, दिल्‍ली छावनी – 110010
Office of Controller General of Defence Accounts mat
Ulan Batar Road, Palam, Delhi Cantt – 110 010.
No. AN/XII/13133/Misc./2021 
Dated 29.07.2021.
To
All Principal Controllers/ Controllers
All PIFAs/IFAs
(Through website)
Subject: Unauthorised communication/revelation of classified information.
Reference: This Office circular bearing number even dated 21.03.2011 and 07.10.2016.
The DGMI has reported sharing of sensitive information/mobile number by some of the officials of the field offices. The foreign intelligence operative might collect classified information under assumed identity through call/ Whatsapp/E-mail. Sharing of such information could endanger the national security.
2. Therefore, all officers and staff including telephone operators may be sensitized about the imperative need to choke the flow of classified/restricted information and to ensure that no such information is shared with unidentified persons on calls and/or social media. Due caution may be taken by the officers and staff posted at vulnerable offices while dealing with sensitive information. It is emphasized that such action may also attract disciplinary action under relevant Rules.
(Manish Tripathi)
CVO & Jt. CGDA
Source : CGDA order dated 29-07-2021