SC/ST/OBC Employees in Senior Govt. Posts वरिष्ठ सरकारी पदों पर अनुसूचित जाति/अनुसूचित जनजाति/अन्य पिछड़ा वर्ग के कर्मचारी
GOVERNMENT OF INDIA
MINISTRY OF PERSONNEL, PUBLIC GRIEVANCES AND PENSIONS
(DEPARTMENT OF PERSONNEL AND TRAINING)
RAJYA SABHA
UNSTARRED QUESTION NO. 604
(TO BE ANSWERED ON 02.12.2021)
SC/ST/OBC EMPLOYEES IN SENIOR GOVERNMENT POSTS
604 SHRI MALLIKARJUN KHARGE:
Will the PRIME MINISTER be pleased to state:
(a) The percentage of SC/ST/OBC employees in Group A level across various Central Government ministries/agencies and PSUs, category-wise;
(b) The percentage of SCs/STs/OBCs currently employed at the Under Secretary level and above, category-wise;
(c) Whether there is a systematic trend of low percentage of SCs/STs/OBCs in senior Government posts; and
(d) Ifso, the reasons therefor and steps that are being considered to make the senior posts more inclusive and diverse?
ANSWER
MINISTER OF STATE IN THE MINISTRY OF PERSONNEL, PUBLIC GRIEVANCES AND PENSIONS AND MINISTER OF STATE IN THE PRIME MINISTER'S OFFICE (DR. JITENDRA SINGH)
(a): As per information received from 56 Ministries/Departments of the Central Government including their attached/subordinate offices, the percentage of SC, ST and OBC employees in Group 'A', as on 01.01.2019, is 14.15, 6.4 and 16.29, respectively. Representation of SCs, STs and OBCs at the Managerial/ Executive level in the Central Public Sector Enterprises under different Ministries/ Departments, as on 31.3.2020, as per data received from Department of Public Enterprises, is 16.28%, 6.93% and 19.50%, respectively.
(b) to (d): The detailed status including the trend of representation of SCs/STs/OBCs in Group A services, which, inter-alia, includes officers of the level of Under Secretary and above, is enclosed as Annexure-I.
*****
Annexure-I
Percentage of SCs/STs/OBCs in Group A posts in the Ministries/Departments from 01.01.2017 to 01.01.2020
| | | | | |
| --- | --- | --- | --- | --- |
| As on | Total Number of Ministries/ Departments which provided information | Percentage of SCs | Percentage of STs | Percentage of OBCs |
| 01.01.2017 | 76 | 13.2 | 5.6 | 13.4 |
| 01.01.2018 | 70 | 13.1 | 5.5 | 15.0 |
| 01.01.2019 | 56 | 14.2 | 6.4 | 16.3 |
| 01.01.2020 | 45 | 13.4 | 6.0 | 16.4 |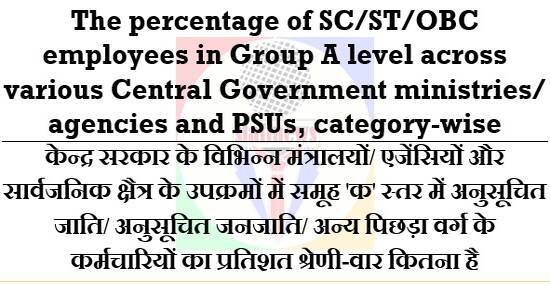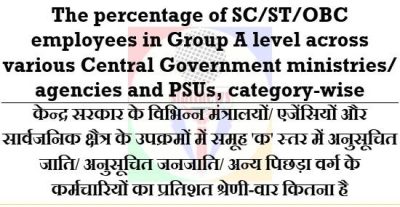 भारत सरकार
कार्मिक, लोक शिकायत तथा पेंशन मंत्रालय
(कार्मिक और प्रशिक्षण विभाग)
राज्य सभा
अतारांकित प्रश्न संख्या: 604
(दिनांक 02.12.2021 को उत्तर के लिए)
वरिष्ठ सरकारी पदों पर अनुसूचित जाति/अनुसूचित जनजाति/अन्य पिछड़ा वर्ग के कर्मचारी
604. श्री मल्लिकार्जुन खरगेः
क्या प्रधानमंत्री यह बताने की कृपा करेंगे किः
(क) केन्द्र सरकार के विभिन्‍न मंत्रालयों/एजेंसियों और सार्वजनिक क्षैत्र के उपक्रमों में समूह 'क' स्तर में अनुसूचित जाति/अनुसूचित जनजाति/अन्य पिछड़ा वर्ग के कर्मचारियों का प्रतिशत श्रेणी-वार कितना है;
(ख) वर्तमान में अवर सचिव स्तर और उससे ऊपर के स्तर पर कार्यरत अनुसूचित जाति/अनुसूचित जनजाति/अन्य पिछड़ा वर्ग के कर्मचारियों का प्रतिशत श्रेणी-वार कितना है;
(ग) क्या वरिष्ठ सरकारी पदों पर अनुसूचित जाति/अनुसूचित जनजाति/अन्य पिछड़ा वर्ग के कम प्रतिशत की नियमित प्रवृत्ति है; और
(घ) यदि हां, तो इसके कया कारण हैं और वरिष्ठ पदों को अधिक समावेशी और विविधतापूर्ण बनाने के लिए क्या-क्या कदम उठाने पर विचार किया जा रहा है?
उत्तर
कार्मिक, लोक शिकायत तथा पेंशन मंत्रालय में राज्य मंत्री तथा प्रधान मंत्री कार्यालय में राज्य मंत्री (डॉ. जितेन्द्र सिंह)
(क) : केंद्र सरकार के 56 मंत्रालयों/विभागों एवं उनके संबंदध/अधीनस्थ कार्यात्रयों से प्राप्त सूचना के अनुसार, दिनांक 01.01.2019 तक की स्थिति के अनुसार, समूह 'क' में अनुसूचित जाति, अनुसूचित जनजाति और अन्य पिछड़ा वर्ग के कर्मचारियों का प्रतिशत क्रमशः 14.15, 6.4 और 16.29 है। लोक उद्यम विभाग से प्राप्त आंकड़ों के अनुसार, दिनांक 31.03.2020 तक की स्थिति के अनुसार, विभिन्‍न मंत्रालयों/विभागों के अधीन केन्द्रीय सार्वजनिक क्षेत्र के उपक्रमों में प्रबंधकीय/कार्यकारी स्तर पर अनुसूचित जातियों, अनुसूचित जनजातियों और अन्य पिछड़ा वर्गों का प्रतिनिधित्व क्रमशः 16.28 प्रतिशत, 6.93 प्रतिशत और 19.50 प्रतिशत है।
(ख) से (घ) : समूह 'क' सेवाओं, जिनमें अन्य के साथ-साथ अवर सचिव एवं ऊपर के स्तर के अधिकारी शामिल हैं, में अनुसूचित जातियों/अनुसूचित जनजातियों/अन्य पिछड़े वर्गों के प्रतिनिधित्व की प्रवृत्ति सहित विस्तृत स्थिति संलग्‍नक-I के रूप में संलग्न है।
संलग्‍नक-I
दिनांक 01.01.2017 से 01.01.2020 तक मंत्रालयों/विभागों में समूह "क" पदों में अनुसूचित जातियों/अनुसूचित जनजातियों/अन्य पिछड़े वर्गों का प्रतिशत
| | | | | |
| --- | --- | --- | --- | --- |
| तक की स्थिति के अनुसार | सूचना प्रदान करने वाले मंत्रालयों/ विभागों की कुल संख्या | अनुसूचित जातियों का प्रतिशत | अनुसूचित जनजातियों का प्रतिशत | अन्य पिछड़े वर्गों का प्रतिशत |
| 01.01.2017 | 76 | 13.2 | 5.6 | 13.4 |
| 01.01.2018 | 70 | 13.1 | 5.5 | 15.0 |
| 01.01.2019 | 56 | 14.2 | 6.4 | 16.3 |
| 01.01.2020 | 45 | 13.4 | 6.0 | 16.4 |
Source: Rajya Sabha PDF Hindi/English