Handing over of 64KB ECHS Card to Pre 2003 ECHS Member – Format of Self attested Certificate for non-availability of MRO
Central Organisation ECHS
Adjutant General's Branch
IHQ of MoD (Army)
Thimayya Marg
Near Gopinath Circle
Delhi Cantt — 110 010
B/49701-PR/AG/ECHS
23 Feb 2022
IHQ of MoD (Navy)/Dir ECHS (N)
DAV, Subroto Park
HQ Southern Command (A/ECHS)
HQ Eastern Command (A/ECHS)
HQ Western Command (A/ECHS)
HQ Central Command (A/ECHS)
HQ Northern Command (A/ECHS)
HQ South Western Command (A/ECHS)
HQ Andaman & Nicobar Command (A/ECHS)
All Regional Centres ECHS
HANDING OVER OF 64 KB ECHS CARD TO PRE 2003 ECHS MEMBER
1. Representations from pre 2003 ECHS members, who are in possession of 16/32 Kb ECHS cards, are being recd at this HQ regarding not being handed over new 64 Kb ECHS cards for not being able to produce copy of MRO vide which ECHS contribution amount may have been earlier paid by them.
2. The above issue has been examined and it is appreciated that there is a genuine possibility owing to varied reasons for non availability of the MRO for payment of ECHS one time contribution with the pre 2003 ECHS members who are in possession of 16/32 Kb ECHS cards. It needs to be appreciated that their existing membership status would have materialised consequent to the verification process at the time of grant of ECHS membership.
3. In view of the above, it is directed that necessary checks will continue to be exercised by the ECHS Polyclinics before handing over new 64 Kb ECHS cards. However, wherever a pre 2003 ECHS member who is in possession of 16/32 Kb ECHS card is unable to produce copy of the desired MRO, he/she will be handed over the 64 Kb ECHS card on submission of a self attested certificate as per proforma attached as Appx to this letter. The proforma can be provided by the ECHS Polyclinic to the beneficiary.
4. For info and action pl.
(Rajesh Dogra)
Col
Dir (Ops & Coord)
for MD ECHS
---
Appx
(Refers to Para 3 of Central Org
ECHS letter No B/49701- PR/
AG/ECHS at 23 Feb 2022)
SELF ATTESTED CERTIFICATE FOR NON AVAILABILITY OF MRO FOR ONE TIME ECHS CONTRIBUTION PAYMENT BY PRE 2003 ECHS MEMBER
1. I, No ________ Rank _______ Name _________ hereby declare:-
(a) that, I am in possession of ECHS membership as per ECHS card No ________ issued to me on __________,
(b) that, I have lost/ misplaced the MRO vide which I had paid the applicable one time ECHS contribution amount while first acquiring ECHS membership.
(c) that, in the eventuality of it coming to light that I have willingly suppressed/ concealed information or not handed over documents available with me and required of me at the time of being handed 64 Kb ECHS cards to me and my dependents, I shall be liable to action by ECHS in accordance with applicable policy provisions including termination of my membership.
2. I place my signature as under to the above declaration willingly and in complete comprehension of the contents therein.
Location : _________
Date:_____
_______________
(Signature of the ECHS
Beneficiary)
Appx
-(केंद्रीय संगठन ईसीएचएस पत्र संख्या
बी/49701- पीआर/एजी/ईसीएचएस
दिनांक  23 फरवरी 2022 के पैरा 3
को संदर्भित)
2003 से पूर्व ईसीएचएस सदस्य द्वारा एकमुश्त ईसीएचएस अंशदान भुगतान के लिए एमआरओ के अनुपलब्धता के लिए स्व-प्रमाणित प्रमाण पत्र
1. मैं, संख्या _____ रैंक _____ नाम _____ एतदद्वारा घोषित करता हूं –
(ए) कि, मुझे ईसीएचएस कार्ड संख्या _______ के अनुसार ईसीएचएस सदस्यता प्राप्त है।
(बी) कि, मैंने वह एमआरओ खो दिया है जिसके माध्यम से मैंने पहली बार ईसीएचएस सदस्यता प्राप्त करते समय लागू एकमुश्त ईसीएचएस योगदान राशि का भुगतान किया था।
(सी) कि, यह प्रकाश में आने की स्थिति में कि मुझे और मेरे आश्रितों को 64 केबी ईसीएचएस कार्ड सौँपे जाने के समय मैंने स्वेच्छा से जानकारी को छिपाया है या मेरे पास आवश्यक दस्तावैज उपलब्ध होने के बावजूद दस्तावेज नहीं सौपे हैं, तो मैं मेरी सदस्यता की समाप्ति सहित लागू नीति प्रावधानों के अनुसार ईसीएचएस द्वारा कार्रवाई के लिए उत्तरदायी रहूंगा ।
2. मैं उपरोक्त घोषणा के तहत स्वेच्छा से और उसमें निहित सामग्री को पूरी तरह से समझने के लिए अपना हस्ताक्षर करता हूं।
स्थान : ________
दिनांक: _______
_____________
(ईसीएचएस लाभार्थी के हस्ताक्षर)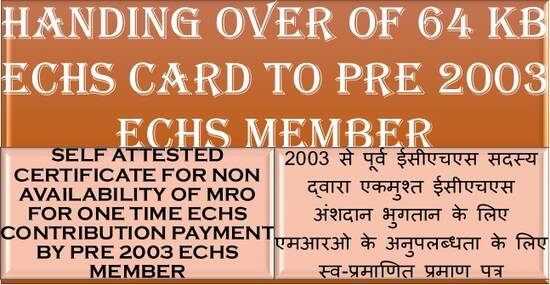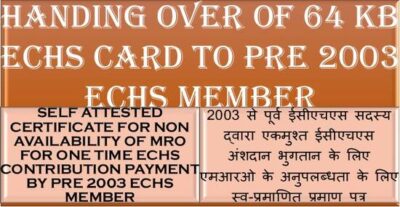 Source: Click here to view/download PDF