Comments sought by DoP&PW from DoE on NPS to OPS पेंशन और पेंशनभोगी कल्याण विभाग द्वारा नई पेंशन योजना के संबंध में व्यय विभाग से मांगी गई टिप्पणियाँ
भारत सरकार
वित्त मंत्रालय
व्यय विभाग
राज्य सभा
लिखित प्रश्न संख्या – 221
मंगलवार, 19 जुलाई, 2022/28 आपाढ;, 1944 (शक)
पेंशन और पेंशनभोगी कल्याण विभाग द्वारा नई पेंशन योजना के संबंध में व्यय विभाग से मांगी गई टिप्पणियाँ
221. श्री नीरज शेखरः
क्या वित्त मंत्री यह बताने की कृपा करेंगे कि:
(क) क्या पेंशन और पेंशनभोगी कल्याण विभाग (डीओपी एंड पीडब्ल्यू) ने उच्चतम न्यायालय के संबंधित विभिन्‍न निर्णयों को ध्यान में रखते हुए ऐसे कर्मचारियों, जिनकी भर्ती संबंधी विज्ञापन 01/01/2004 से पहले जारी किए गए थे, को नई पेंशन योजना (एनपीएस) के दायरे से निकाल कर पुरानी पेंशन योजना (ओपीएस) के अंतर्गत शामिल करने के लिए व्यय विभाग (डीओई) की टिप्पणियाँ माँगी हैं;
(ख) यदि हों, तो तत्संबंधी ब्यौरा कया है;
(ग) क्या व्यय विभाग ने पेंशन और पेंशनभोगी कल्याण विभाग को अपनी टिप्पणियाँ प्रस्तुत कर दी है;
(घ) यदि हाँ, तो टिप्पणियों का पूर्ण ब्यौरा क्या है; और
(5) यदि नहीं, तो विलंब के क्‍या कारण हैं?
उत्तर
वित्त मंत्रालय में राज्य मंत्री (श्री पंकज चाँधरी)
(क) : जी, नहीं।
(ख) से (ड.) प्रश्न नहीं उठता।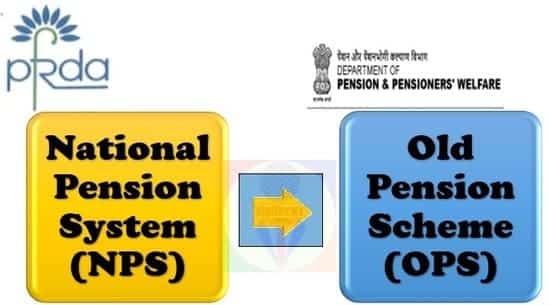 Ministry of Finance
Department of Expenditure
RAJYA SABHA
UNSTARRED QUESTION NO.221
TO BE ANSWERED ON, 19THJULY, 2022/ASHADHA 28 1944 (SAKA)
COMMENTS SOUGHT BY DOP&PW FROM DOE ON NPS
QUESTION
221: Shri Neeraj Shekhar:
Will the Minister of Finance be pleased to state:
(a) whether Department of Pension and Pensioners Welfare (DoP&PW) has sought comments of Department of Expenditure (DoE) to exclude those officials from the purview of New Pension Scheme (NPS) and to cover them under Old Pension Scheme (OPS) whose advertisements for recruitment were issued before 01/01/2004 in view of various Supreme Court judgments in this regard;
(b) if so, the details thereof;
(c) whether DoE has furnished it's comments to DoP&PW;
(d) if so, the full details of the comments; and
(e) if not, the reason for delay?
ANSWER
MINISTER OF STATE FOR FINANCE
(SHRI PANKAJ CHOUDHARY)
(a) No Sir.
(b) to (e) Does not arise