Authorization of 9 Additional CPPCs of Punjab National Bank – CPAO O.M. dated 08.06.2023
GOVERNMENT OF INDIA
MINISTRY OF FINANCE
DEPARTMENT OF EXPENDITURE
TRIKOOT, BHIKAJT CAMA PLAGE,
NEW DELHI-110066
CPAO/TT&Tech/PNB/e-13182/CPPC/Vol-II/18(i)/2023-24/79
Dated-09.06.2023
Office Memorandum
Subject: Authorization of 9 Additional CPPCs of Punjab National Bank
It is informed that the Central Pension Accounting Office (CPAO) vide its letter dated-06.06.2023 has conveyed its approval to Punjab National Bank to include its nine Additional CPPCs for disbursement of pensions as per the guidelines mentioned in the Scheme Booklet. The Bank has received the necessary privilege code from the Reserve Bank of India to start reporting of transactions made by its new Central Pension Processing Centre (CPPC) for daily settlement of pension cases.
The Additional new CPPCs are-
CPPC Allahabad
CPPC Mumbai
CPPC Jaipur
CPPC Chandigarh
CPPC Ludhiana
CPPC Patna
CPPC Chennai
CPPC Kolkata
CPPC Bhopal
All Ministries are requested to provide necessary publicity so that retiring employees may, if they so desire, make use of facilities of Punjab National Bank for opening their pension accounts.
This issues with the approval of the Chief Controller (Pensions).
(P. Deepak)
(Dy. Controller Accounts)
Copy to-
All Pr. CCAs/CCAs/CAs (with independent charge)
Department of Pension and Pensioners' Welfare
TA-III section, 0/o CGA
PFMS, O/o CGA
All PAOs/AGs (through website of CPAO)
Ministry of Electronics & Information Technology (MeitY)
All Authorised Banks (as per List)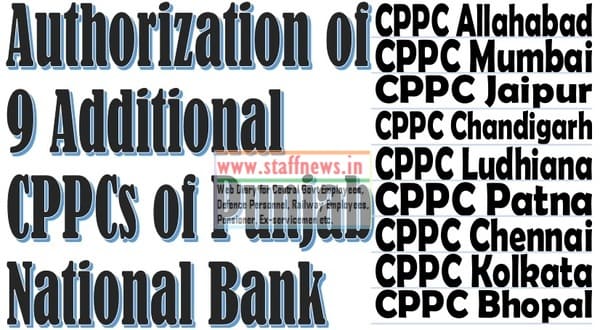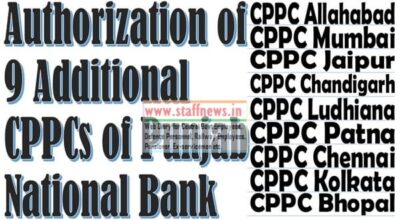 View/Download the PDF