Provision of OPD consultation & related investigation for RELHS beneficiaries aged 75 years & above from specialists of Private Hospitals empanelled by Railway – As a PILOT PROJECT FOR ONE YEAR FROM 01.11.2023 TO 31.10.2024: Railway Board Order dated 19.09.2023
GOVERNMENT OF INDIA
MINISTRY OF RAILWAYS
(RAILWAY BOARD)
No. 2023/H/28/1/RELHS/Empanelled(CGHS)
New Delhi, Dated:-19.09.2023
General Managers,
All Indian Railways
Including PUs, RDSO and NAIR.
Sub:- Provision of OPD consultation & related investigation for RELHS beneficiaries aged 75 years & above from specialists of Private Hospitals empanelled by Railway — As a PILOT PROJECT FOR ONE YEAR FROM 01.11.2023 TO 31.10.2024.
The matter of provison of direct Outpatient Department (OPD) consultation and related investigation from specialists of private hospitals empanelled by Railway for RELHS beneficiaries aged 75 years and above has been drawing attention of Ministry of Railway for some time. After consideration of the issue, Railway Board has decided as under:-
(i) RELHS beneficiaries aged 75 years and above may be permitted to seek direct OPD consultation from specialists of.Private Hospitals empanelled by Railway, without referral from Railway Hospital/ Health Unit under which beneficiary 1s registered.
(ii) If any CGHS listed investigation/procedures is advised and is required to be undertaken In emergency, no other authorization will be required, and the same may be undertaken from empanelled hospital at CGHS rates for that city/or as per MoU with Railways in cashless procedure. Bills along with copy of UMID card, copy of prescription/ Reports and declaration form (copy enclosed) signed by the beneficiary and duly endorsed by the competent authority of the empanelled hospital will be sent to Railway under which the hospital 1s empanelled for payment.
(iii) In non-emergency cases, approval of competent authority from Railways will be required for undertaking (a) CGHS non-listed investigations/ planned procedures; and (b) those CGHS listed investigations, which cost above Rs. 10000/-, whenever advised by specialist of empanelled hospitals.
(iv) Medicines prescribed by a specialist doctor of private railway empanelled hospitals will be issued by concerned Railway hospitals/Health Units on authorization of available railway doctor.
(v) Private Hospitals empanelled under Railways shall provide above facilities on cashless basis at CGHS rates to Railway beneficiaries aged more than 75 years. The hospitals shall submit the bills along with valid UMID card and declaration form signed by the beneficiary who has availed the facilities, duly endorsed by the competent authority of the empanelled hospital.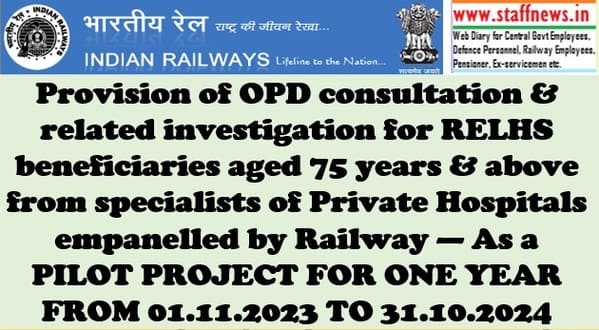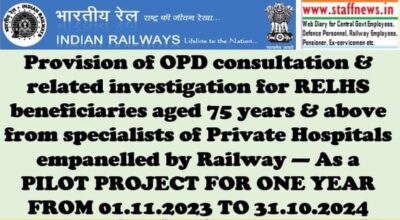 (vi) This facility will be available for only those aged 75 years & above RELHS beneficiaries who are eligible for OPD consultation at Railway Hospitals/ Health Units. This facility is not available to beneficiaries having UMID card with FMA.
(vii) These guidelines will not supercede the instruction issued vide Board's letter No. 2018/TransCell/Health/CGHS (eOffice No.327783) dated 16.06.2021 which will remain inforce for emergency cases/IPD caeses as speicified therein.
(viii) This is a Pilot Project only for one year i.e. 01.11.2023 to 31.10.2024. Railways will ensure the period of Pilot Project without fail.
(ix) To ensure that UMID cards are not misused, proper accountal of expenditure incurred on the present scheme may be maintained by Railway/ PU.
(x) Empanelled hospitals need to be provided access to HMIS portal so that data-is captured efficiently and can be retrieved whenever required. y
(Dr. A. K. Malhotra)
Principal Executive Director/Health
Railway Board.
DECLARATION BY RAILWAY BENEFICIARY AGED 75 YEARS AND ABOVE REGARDING FACILITIES AVAILED AT RAILWAY EMPANELLED HOSPITAL
I, … … … … … … … … … … … … … … (name), the undersigned, possessing the UMID Card No. … … … … … … … has availed … … … … … … … … … … … … … … (OPD / Investigation / Procedure) on … … … … … … … (date) at … … … … … … … … … … … … … … (name of the hospital).
| | | | |
| --- | --- | --- | --- |
| Signature of Competent Authority of Empanelled, Hospital | ………………… | Signature of Rly Beneficiary | ………………… |
| Name of the Authority | ………………… | Name of the patient | ………………… |
| Designation | ………………… | UMID Card No. | ………………… |
| Name of the Hospital | ………………… | Mobile No. | ………………… |
| Mobile No. | ………………… | Email ID | ………………… |
| Email id | ………………… | | ………………… |
View/Download the PDF