Military Engineering Service: Ceiling of Military and Civilian Subordinate Staff:-
Directorate General (Pers)
Military Engineer Services
Integrated HQ of MoD(Army)
Engineer-in-Chief's Branch
Kashmir House, New Delhi-11
B/20103/Estt/223/E1C(1)
dated 08 Sep 2015
HQ CE SC
HQ CE EC
HQ CE WC
HQ CE CC
HQ CE NC
HQ CESWC
REVISED CIVILIAN MANPOWER CEILING
1. Ref this HQ letters No.
(a) B/20103/Estt/131/E1C(1) dt 12 May 2015
(b) B/20148/PPI57/E1C(1) dt 22 May 2015.
2. The ceiling of OS, UDC &LDC has again been reviewed and reconciled. The revised ceiling is attached as App: 'A'.
3. This has the approval of E-in-C.
(DK Yadav)
Col
SO-1(Pers)
for E-in-C
Encls: Appx A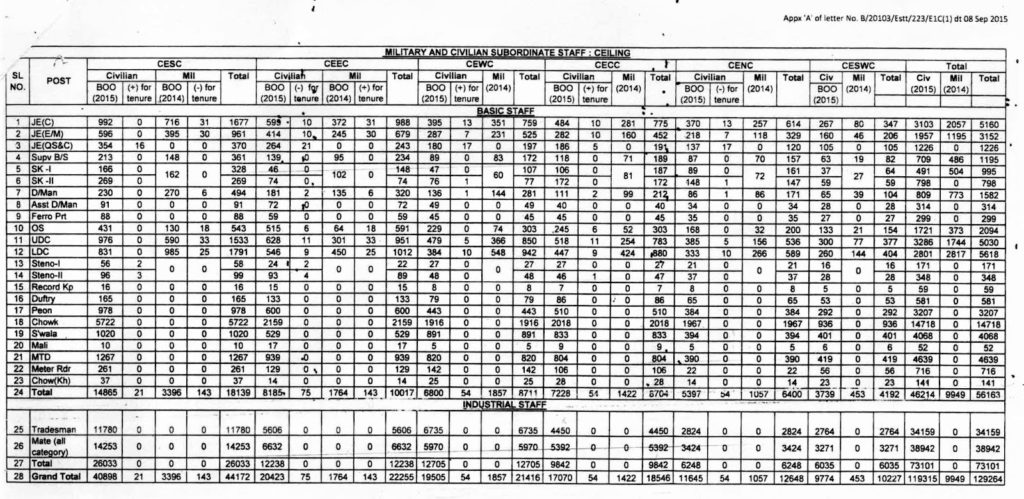 Source: http://www.aimesccgdea.org/highlights.php?id=607
Stay connected with us via Facebook, Google+ or Email Subscription.
Subscribe to Central Government Employee News & Tools by Email [Click Here]
Follow us: Twitter [click here] | Facebook [click here] | Google+ [click here]
Admin