Media reports regarding submission of 7th CPC report to Govt. on 19th Nov or 20th Gov on behalf of PTI wire, has been confirmed now vide the website of 7th CPC that report will be submitted on 19th Nov, 2015 at 19.30. The following message has been flashed on 7th CPC website
LatestThe Commission has completed its deliberations and will submit the report to the Government of India on 19.11.2015 at 19:30 hours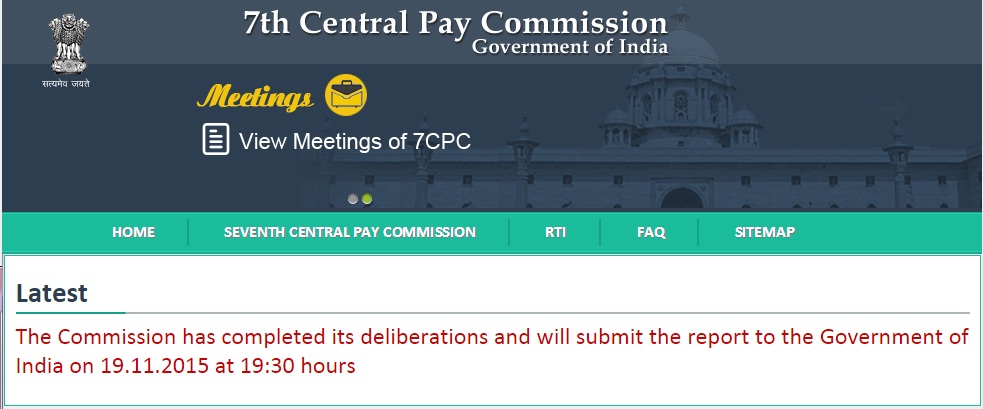 The Commission was set up by the UPA government in February 2014 to revise remuneration of about 48 lakh central government employees and 55 lakh pensioners.
Its recommendations will also have a bearing on the salaries of the state government staff.
The Union Cabinet had extended the term of the panel in August by four months, till December.
As part of the exercise, the commission holds discussions with various stakeholders, including organisations, federations, groups representing civil employees as well as Defence services.
The recommendations of the 7th Pay Commission are scheduled to take effect from January 1, 2016.
Besides Chairman, other members of the commission are Vivek Rae, a retired IAS officer of 1978 batch, and Rathin Roy, an economist. Meena Agarwal is secretary of the commission.
The 6th Pay Commission was implemented with effect from January 1, 2006; the 5th from 1 January 1996, and the 4th from January 1, 1986.
Stay connected with us via Facebook, Google+ or Email Subscription.
Subscribe to Central Government Employee News & Tools by Email [Click Here]
Follow us: Twitter [click here] | Facebook [click here] | Google+ [click here]
Admin