Section 87A – Rebate of Rs. 2000 for Income upto Rs. 5 Lakh: IT Circular 20/2015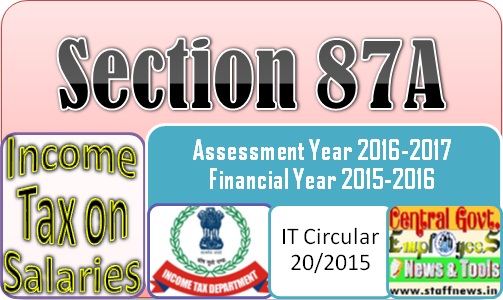 6. REBATE OF Rs 2000 FOR INDIVIDUALS HAVING TOTAL INCOME UPTO Rs 5 LAKH [SECTION 87A]
INCOME-TAX DEDUCTION FROM SALARIES
DURING THE FINANCIAL YEAR 2015-16 ASSESSMENT YEAR 2016-2016
UNDER SECTION 192 OF THE INCOME-TAX ACT, 1961
Circular 20/2015
Dated the 2nd December, 2015
6. REBATE OF Rs 2000 FOR INDIVIDUALS HAVING TOTAL INCOME UPTO Rs 5 LAKH [SECTION 87A]
Finance Act 2013 provided relief in the form of rebate to individual taxpayers, resident in India, who are in lower income bracket, i. e. having total income not exceeding Rs 5,00,000/-. The amount of rebate is Rs 2000/- or the amount of tax payable, whichever is lower. This rebate is available for AY 2014-15 and subsequent assessment years.
***
Other Parts of IT Circular 20/2015


Stay connected with us via Facebook, Google+ or Email Subscription.
Subscribe to Central Government Employee News & Tools by Email [Click Here]
Follow us: Twitter [click here] | Facebook [click here] | Google+ [click here]
Admin