125% Dearness Allowance from January 2016 is confirmed now after releasing of
December, 2015 AICPIN, which was already speculated by Seventh Pay Commission
and was taken as fitment factor for determination of new pay matrix.
As per Labour Bureau Press Release the All-India CPI-IW for December, 2015
decreased by 1 point and pegged at 269 (two hundred and sixty nine). From this
decrease the Expected Dearness Allowance from Jan, 2016 is confirm to stand at
125%.
The Dearness Allowance from Jan, 2016 is important factor of pay determination
in 7th CPC, which is due to implement with effect from 01.01.2016. The recommendations of 7th CPC has taken the expected DA @ 125% for the purpose of minimum pay determination and the fitment factor for new pay structure.
Now the speculation of this DA by 7th CPC is correct and only minimum wages will
be the main factor to increase the Fitment Factor from 2.57, which is main
demand of employees. The line of recommendations of 7th CPC regarding Fitment Factor are given below:-

Fitment
5.1.27 The starting point for the first level of the matrix has been set at Rs.18,000. This corresponds to the starting pay of Rs. 7,000, which is the beginning of PB-1 viz., Rs.5,200 + GP 1800, which prevailed on 01.01.2006, the date of implementation of the VI CPC recommendations. Hence the starting point now proposed is 2.57 times of what was prevailing on 01.01.2006. This fitment factor of 2.57 is being proposed to be applied uniformly for all employees. It includes a factor of 2.25 on account of DA neutralisation, assuming that the rate of Dearness Allowance would be 125 percent at the time of implementation of the new pay. Accordingly, the actual raise/fitment being recommended is 14.29 percent.
How the DA from Jan, 2016 calculated to be 125% with AICPIN of Dec-2015 is clear from undermentioned table:-
Expected DA/DR from Jan, 2016 – Table by www.staffnews.in
Expect-
ation
Increase/
Decrease
Index
Month
Base
Year
2001 =
100
Total
of 12
Months
Twelve
monthly
Average
% increase
over
115.76 for
DA
DA
announced
or will be
announced
0
Dec,14
253
2963
246.92
113.30%
113%
Expected DA
from July,
2015 is to be
announced
by Govt.
DA/DR from
July, 2015
1
Jan,15
254
2980
248.33
114.52%
119%
-1
Feb,15
253
2995
249.58
115.60%
1
Mar,15
254
3010
250.83
116.68%
2
Apr,15
256
3024
252.00
117.69%
2
May,15
258
3038
253.17
118.70%
3
Jun,15
261
3053
254.42
119.78%
Jul+AICPIN
2
Jul,15
263
3064
255.33
120.57%

126%

Aug+AICPIN
1
Aug-15
264
3075
256.25
121.36%
Sep+AICPIN
2
Sep-15
266
3088
257.33
122.30%
Oct+AICPIN
3
Oct-15
269
3104
258.67
123.45%
Nov+AICPIN
1
Nov-15
270
3121
260.08
124.67%
Dec+AICPIN
-1
Dec-15
269
3137
261.42

125.83%
Expected DA from 01.01.2016 for 7th CPC Fitment Factor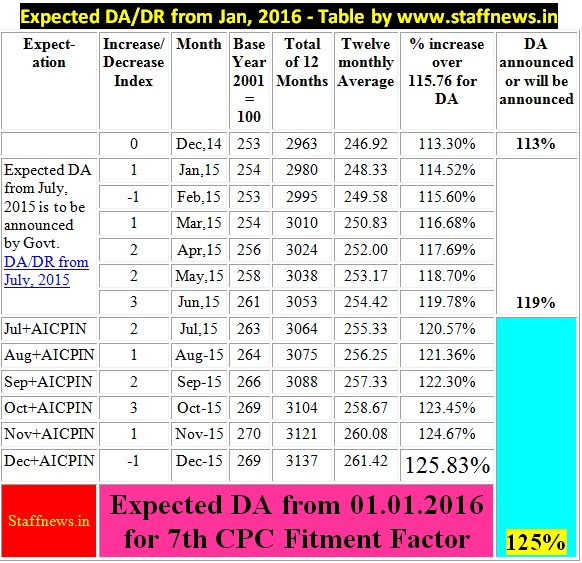 You may also download/save the excel sheet for self calculation. The link for excel sheet is given below:
DOWNLOAD: EXCEL FILE FOR EXPECTED DEARNESS CALCULATION TO CALCULATE YOURSELF [click on File-Menu & download]
Press Release of AICPIN for Dec 2015 – 1 Points decreased and pegged at 269:-
No.5/1/2015- CPI
GOVERNMENT OF INDIA
MINISTRY OF LABOUR & EMPLOYMENT
LABOUR BUREAU
`CLEREMONT', SHIMLA-171004
DATED: 29th January, 2016
Press Release
Consumer Price Index for Industrial Workers (CPI-IW) – December, 2015
The All-India CPI-IW for December, 2015 decreased by I point and pegged at 269 (two hundred and sixty nine). On 1-month percentage change, it decreased by (-) 0.37 per cent between November and December, 2015 which was static between the same two months a year ago.
The maximum downward pressure to the change in current index came from Food group contributing (-) 1.36 percentage points to the total change. At item level, Arhar Dal, Masur Dal, Moong Dal, Onion, Potato, Tomato, Peas and other Green Vegetables & Fruit items, Petrol, etc. are responsible for the fall in index. However, this decrease was checked by Rice, Wheat, Wheat Atta, Fish Fresh, Eggs (Hen), Poultry (Chicken), Goat Meat, Milk (Buffalo), ESI Contribution, Rail Fare, Barber Charges, Flower/Flower Garlands, etc., putting downward pressure on the index.
The year-on-year inflation measured by monthly CPI-IW stood at 6.32 per cent for December, 2015 as compared to 6.72 per cent for the previous month and 5.86 per cent during the corresponding month of the previous year. Similarly, the Food inflation stood at 7.94 per cent against 7.86 per cent of the previous month and 5.73 per cent during the corresponding month of the previous year.
At centre level, Ludhiana reported the maximum decrease of 7 points followed by Ahmedabad and Rourkela (6 points each), Tripura, Varanasi, Lucknow and Kodarma (5points each). Among others, 4 points decrease was observed in 9 centres, 3 points in 4 centres, 2 points in 11 centres and 1 point in 12 centres. On the contrary, Quilon recorded a highest increase of 7 points followed by Warangal (4 points), and Rangapara-Tezpur, Chhindwara and Mundakkayam (3 points each). Among others, 2 points increase was observed in 5 centres and 1 point in 9 centres. Rest of the 16 centres' indices remained stationary.
The indices of 37 centres are above All-India Index and other 40 centres' indices are below national average. The index of Jabalpur centre remained at par with All-India Index.
The next issue of CPI-IW for the month of January, 2016 will be released on Monday, 29th February, 2016. The same will also be available on the office website www.labourbureaunew.gov.in.
sd/-
(SHYAM SINGH NEGI)
DEPUTY DIRECTOR GENERAL
Source: www.labourbureau.nic.in
[http://labourbureau.nic.in/Press_Note_CPI_IW_DEC_2015_EH.pdf]
Stay connected with us via Facebook, Google+ or Email Subscription.
Subscribe to Central Government Employee News & Tools by Email [Click Here]
Follow us: Twitter [click here] | Facebook [click here] | Google+ [click here]
Admin