Grievances of Staff – Discussions held by Board (CRB, MS & FC) with Federations (AIRF & NFIR) on 1.10.2015 on issues raised by Federations: Railway Board Order
Government of India
Ministry of Railways
(Railway Board)
No. 2014/E(LR)II/1/8
New Delhi, dated: 27.01.2016
General Secretary,
All India Railwaymen's Federation,
4, State Entry Road,
New Delhi-110055.
The-General Secretary,
National Federation of Indian Railwaymen,
3, Chelmsford Road,
New Delhi-110055.
Dear Sirs,
Subject: Grievances of Staff – Discussions held by Board (CRB, MS & FC) with Federations (AIRF & NFIR) on 1.10.2015 on issues raised by Federations.
In the above connection, a further meeting of the FederatiOns with Board (CRB, MS and FC) has been fixed for 04.02.2016 at 11.30 hrs. in the Committee Room [Room No. 237 1. A list of issues to be discussed is enclosed.
2. President and General Secretary of the Federations are requested to kindly make it convenient to attend the above meeting.
Yours faithfully,
D.A.: As above.
(Naveen Kumar)
Dy. Director, E(LR)-I
Issues to be discussed in the meeting to be held by Board (CRB, MS and FC) with Federations (AIRF & NFIR) on 04.02.2016.
(i) Exempting Railways from New Pension Scheme.
(ii) Up-gradation of Apex level Group 'C' posts to Group 'B' Gazetted (3335 posts).
(iii) Report of High Power Committee on duty hours of Running and other Safety Categories of Staff.
(iv) Induction of Course Completed Act Apprentices against Safety Vacancies in GP Rs. 1800/-.
(v) Stepping up of pay of Loco Inspectors appointed prior to 01.01.2006. The commitment given by the Railway Board for granting stepping up of pay Of the Loco Inspectors on the remaining, six zones is yet to be implemented.
(vi) Rectification of MACPS anomalies.
(vii) Absorption of Quasi Administrative Unit Staff against erstwhile Group 'D' vacancies.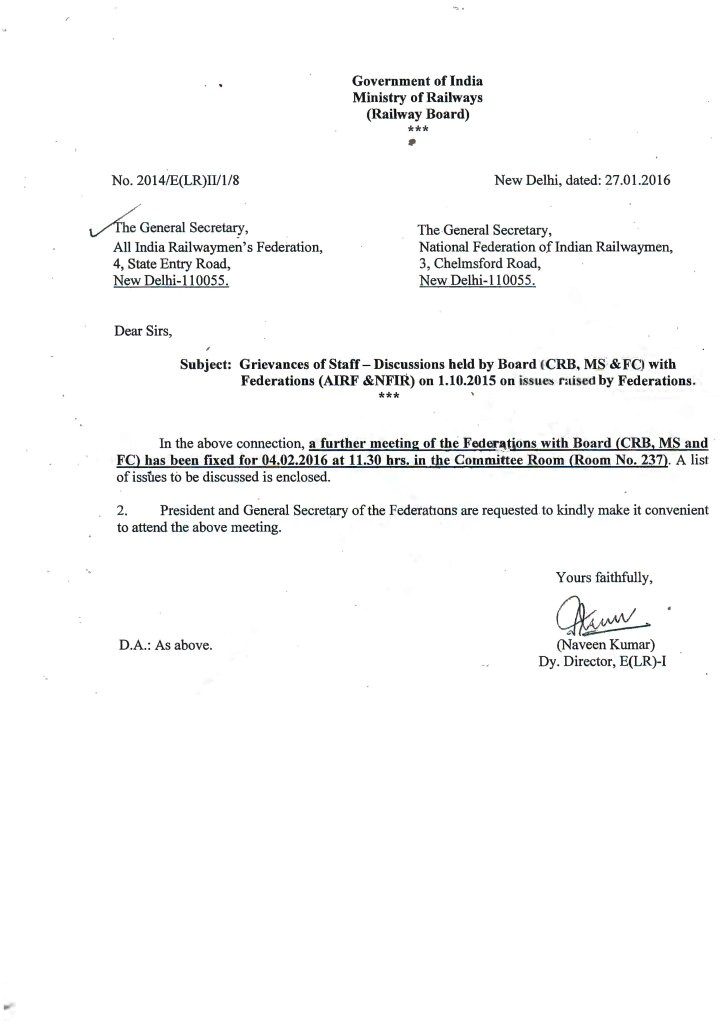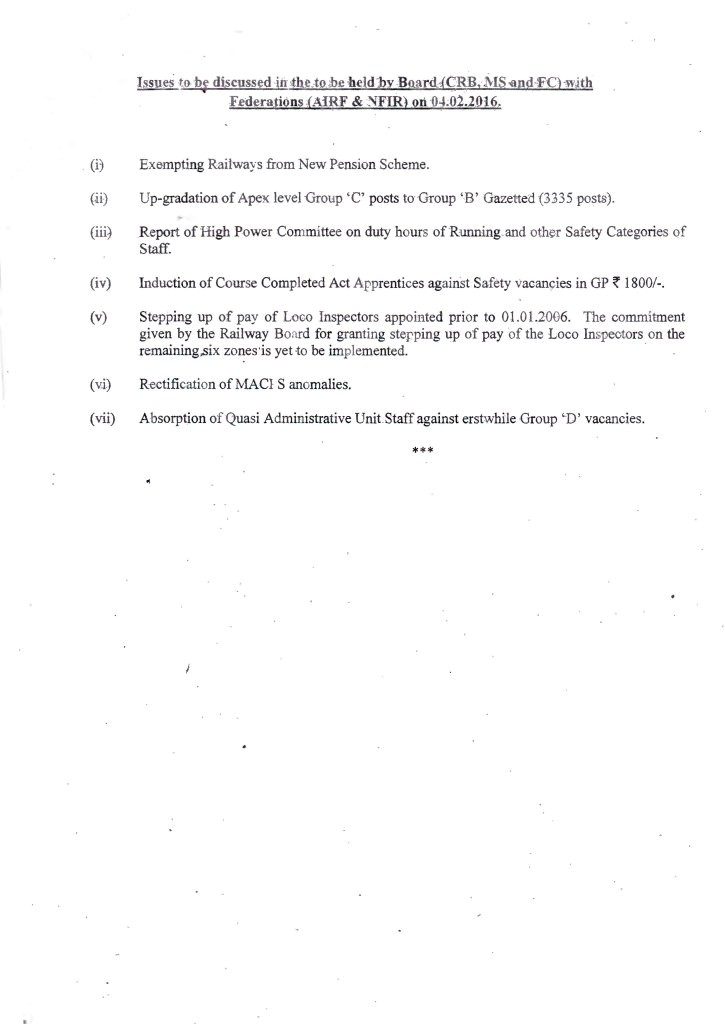 Source: http://www.nrmu.net/
Stay connected with us via Facebook, Google+ or Email Subscription.
Subscribe to Central Government Employee News & Tools by Email [Click Here]
Follow us: Twitter [click here] | Facebook [click here] | Google+ [click here]
Admin