Grant of Canteen Facilities to the Family Pensioners of Retired Defence Civilians: MoD Order dated 04.03.2016
F. No. 8(14)/2015-D(Mov]
Government of India
Ministry of Defence
Sena Bhawan, New Delhi
Dated the 04th March, 2016
OFFICE ORDER
Subject: Grant of CSD Canteen Facilities to Retired Defence Civilian Employees.
In continuation of this Ministry's office order of even No. dated 31st July, 2015 on the above mentioned subject, the undersigned is directed to say that with the approval of Hon'ble RM, it has been decided that the family pensioners of retired Defence Civilian Employees will also be eligible for extended CSD Canteen facilities.
(R.P.S. Negi)
Under Secretary to the Govt of India
View: Grant of Canteen Facilities to the Family Pensioners of Retired Defence Civilians: DDGCS letter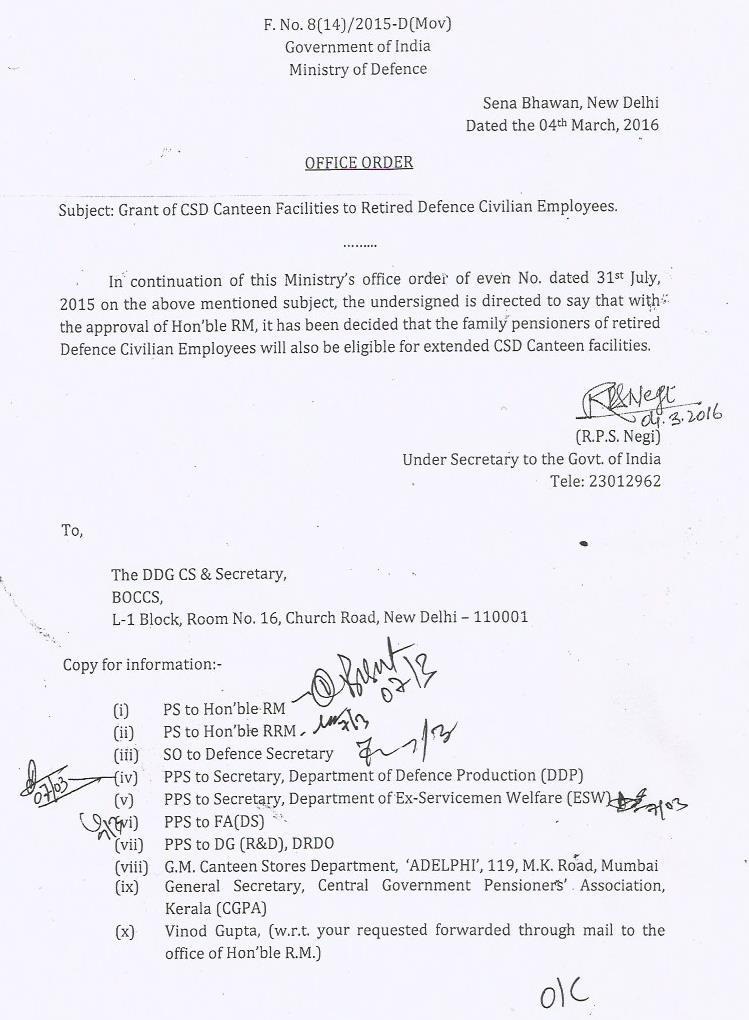 Source: BPMS [click here to download]
Stay connected with us via Facebook, Google+ or Email Subscription.
Subscribe to Central Government Employee News & Tools by Email [Click Here]
Follow us: Twitter [click here] | Facebook [click here] | Google+ [click here]
Admin