Statement of fixation of pay in 7th Pay Commission – Railway Services (Revised Pay) Rules, 2016: Railway Board Order RBE No. 94/2016
Government of India
Ministry of Railways
Railway Board
S. No. 3/PC-VII
RBE No. 94/2016
No. PC-VII/2016/RSRP/2
New Delhi dated: – 03.08.2016
The General Manager
All India Railways &
Production Units
(As per mailing list)
Sub: – Implementation of 7th Central Pay Commission recommendations – Statement of fixation of pay.
Please refer to
Railway Services (Revised Pay) Rules, 2016
notified vide GSR No. 746 (E) dated 28.07.2016 forwarded with Railway Board endorsement No. PCVII/ 2016/RSRP/1 dated 28.07.2016 and further instructions and schedule circulated vide Railway Board's Letter No. PC-VII/2016/RSRP/2 dated 2.08.2016 (RBE No. 93/2016).
2. In continuation to the rules/instructions circulated vide Board's letter referred above, performa of statement of fixation of pay for fixing the pay of existing employees already in services as on 1.01.2016 while implementing the 7th CPC recommendations is enclosed here with as Annexure 'A'. Further action to fix the pay may be taken as per the instructions contained in para 6 of Board's Letter No. PC-VII/2016/RSRP/2 dated 02.08.2016.
This issues with concurrence of Finance Dte of Ministry of Railway.
Deputy Director, Pay Commission-VII
Railway Board
No. PC-VII/2016/RSRP/2 New Delhi, dated: 03.08.2016
Annexure'A'
Statement of fixation of pay under Railway Services (Revised Pay) Rules, 2016 (for existing employees as already in service as on 01/01/2016
1.
(i) Name of the Employee
(ii) Father's Name
(iii) PF A/c No. / PRAN No
2.
Designation of the post
in which pay is .to be fixed (as on 01/01/2016)
3.
Status (Substantive /
Officiating)
4.
(A) Existing Pay Band
and Grade Pay or Existing Scale (viz. actual Pre-revised Pay band
and grade Pay or Scale as on 01/01/2016)
(B) In the case of
upgradation of post as a result of recommendation of 7th CPC';
upgraded Grade Pay (if applicable).
5.
Existing Emoluments
a
Existing Basic Pay (Pay in
the applicable pay band plus applicable Grade Pay or basic pay in the
applicable scale in the pre-revised structure as on January 1, 2016)
b
In the cases of normal
replacement pay structure viz not involving upgradation as a result
of recommendation of 7th CPC

Existing Basic pay (Pay in the applicable Pay Band Plus
applicable Grade Pay or Basic Pay in the applicable scale ) in the
pre-revised structure as on 1 January, 2016

b
Cases involving upgradation
as as a result of 7th CPC

Existing pay in the applicable Pay Band Plus applicable upgraded Grade
Pay in the pre-revised structure as on January 1, 2016.

7.
Applicable Level in Pay
Matrix corresponding to Pay Band and Grade Pay or scale as a result of
the recommendations of 7th CPC as accepted by Govt. corresponding to SN.
4
8.
Reckonable amount
for fixation of pay in revised pay structure:
a
In the cases other than
Doctors (in receipt of NPA) or Running Staff ( in receipt of
running Allowance)
Amount arrived at by multiplying Sl No. 6 (A) or (B) as may be
applicable by 2.57 (rounded off to nearest Rupee)
b
In the cases of Doctors
(in receipt of NPA) and Running Staff in receipt of running
Allowance)
Amount arrived at by multiplying Sl No. 6 (A) by 2.5 7 (rounded off to
nearest Rupee) plus DA on NPA or DA on Pay Element of Running Allowance
(30% of Basic Pay) as on 1.1.2016
9.
Applicable Cell in the
applicable Level equal to amount at SI no.8 and failing which, stage
just above the above amount
10.
Revised Basic Pay as on
01/01/2016 (as to SI. No.9)
11.
Stepped up pay with
reference to the revised Pay to Junior, if applicable [Rule 7(8) and 7
(10) of RS (RP) rules, 2016]. Name and pay of the junior also to be
indicated distinctly.
12.
Revised Pay with reference
to Substantive Pay in cases where the pay fixed in the officiating post
is lower than the pay fixed in the substantive post is applicable [Rule
7(11)]
13.
Personal Pay, if any [ Rule
7 (7) and 7 (9)]
14.
Non practicing Allowance
as admissible at present in the existing pre-revised structure.
15.
Date of next increment
(Rule (10) and pay after grant of increment

Date of Increment
Pay after increment in applicable Level of
Pay Matrix

01-__-2017


16.
Any other relevant
information
Signature and Designation of Head of Department
Date
Office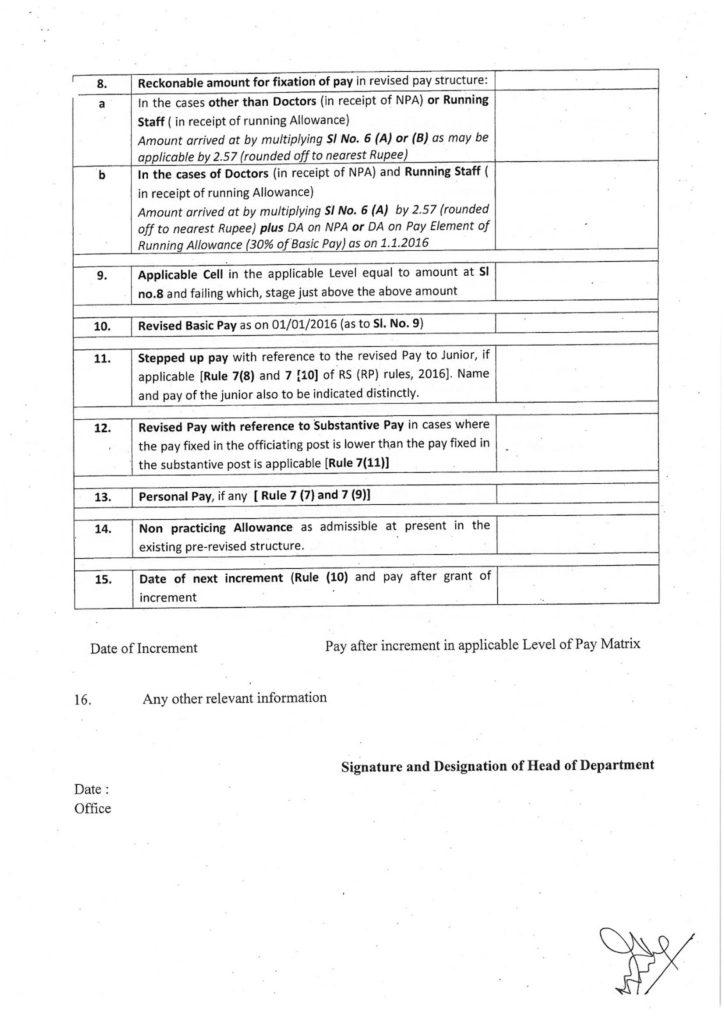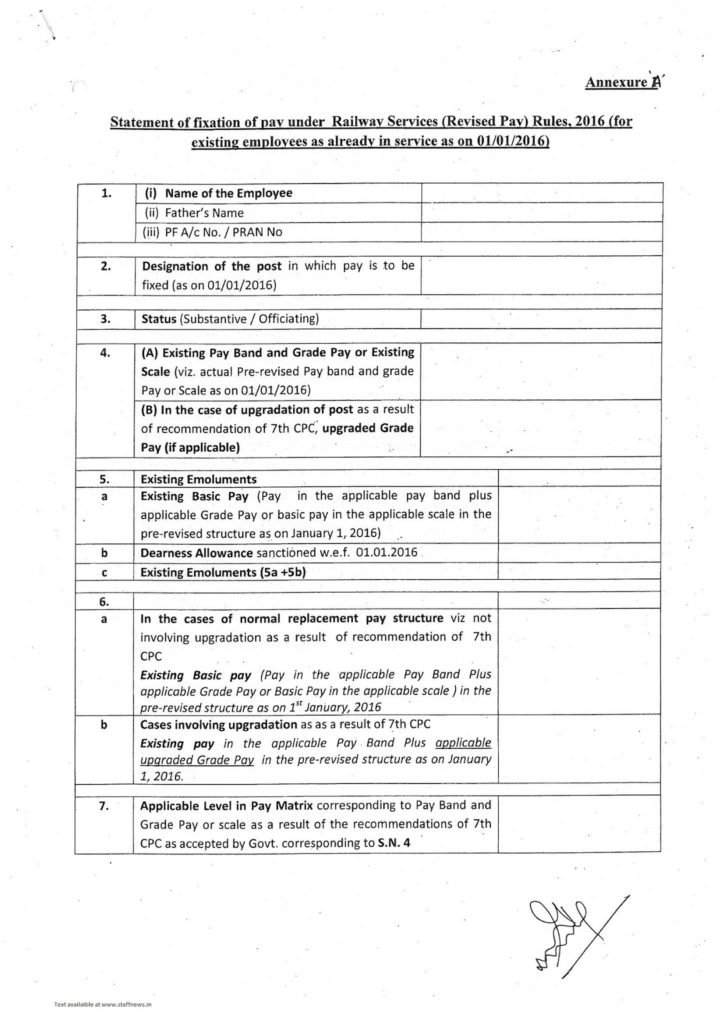 Source: http://www.indianrailways.gov.in/railwayboard/uploads/directorate/pay_comm/PC7/SKMBT_030816.pdf