7th Pay Commission: Highlights of Cabinet approval on Allowances
1. Number of allowances recommended to be abolished and subsumed: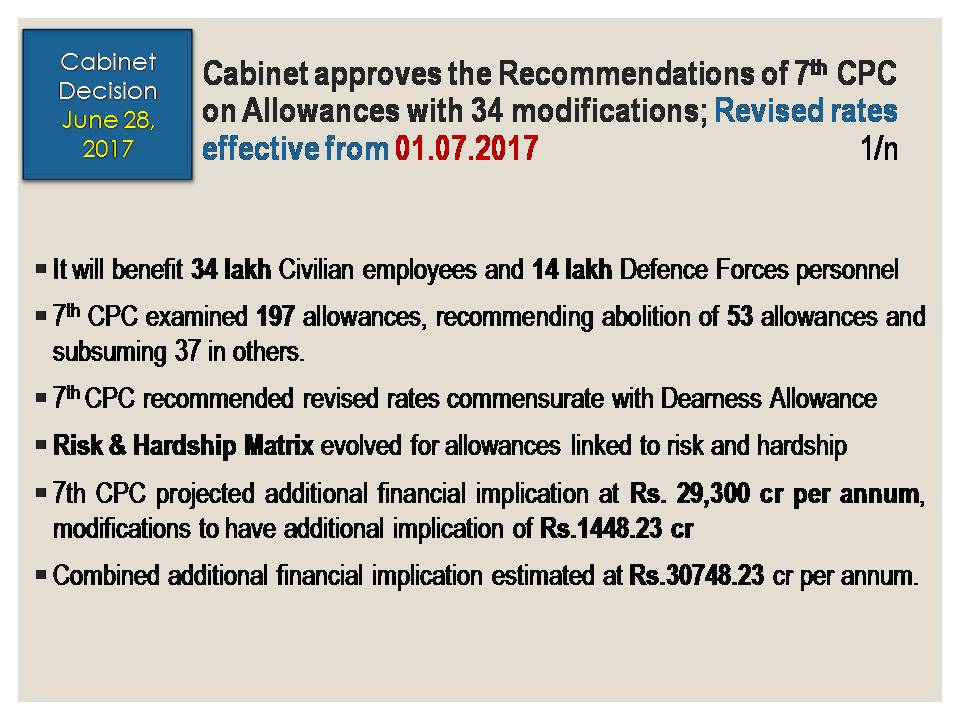 Government has decided not to abolish 12 of the 53 allowances which were recommended to be abolished by the 7th CPC. The decision to retain these allowances has been taken keeping in view the specific functional requirements of Railways, Posts and Scientific Departments such as Space and Atomic Energy. It has also been decided that 3 of the 37 allowances recommended to be subsumed by the 7th CPC will continue as separate identities. This has been done on account of the unique nature of these allowances. The rates of these allowances have also been enhanced as per the formula adopted by the 7th CPC. This will benefit over one lakh employees belonging to specific categories in Railways, Posts, Defence and Scientific Departments.
6. Recommendations in respect of some important allowances paid to all employees:
12. Allowances paid to D/o Posts
i. The recommendations of 7th CPC to abolish Cycle Allowance, granted mainly to Postmen and trackmen in Railways, has not been accepted. Keeping in view the specific requirement of this allowance for postmen in Department of Posts and trackmen in Railways, the cycle allowance is retained and the rates have been doubled from ₹90 per month to ₹180 per month. This will benefit more than 22,200 employees.
Conclusion
While increasing the rate of allowances affecting the central government employees, especially the Defence, CAPF and Coast Guard personnel, the staff of Railways, Postal department and nursing staff, the total number of allowances have been rationalized from 197 to 128. Thus, the Government has shown a great deal of fiscal prudence and at the same time addressed the genuine concerns of the employees and responded to some of the administrative exigencies necessitating the modifications.