Procedure for dealing with DAR case against Group 'C' and 'D' Railway Staff arising out of Vigilance investigation: Railway Board Order
RBV No. 8/2017

Government of India

Ministry of Railway

Railway Board

No. 2012/V-1/Meet/5/2


New Delhi, dated 28/11/2017


The General Managers

Zonal Railways & Ups

CORE, NF(CONST)

Metro/Kolkata

DG RDSO/LKO, NAIR/BRC
Chairman cum Managing Directors

PSUs

The Directors

IRICEN, IRISET, IRITM, IRIEEN & IRIMEE
CAO/COFMOW

DMW/Patiala
Sub: Procedure for dealing with DAR case against Group 'C' and 'D' Staff
arising out of Vigilance investigation.
Ref: Railway Board's letter No. zoom-1101000511 dated 11.00.2011.
Instructions have already been laid down on the procedure to be followed
for dealing with DAR cases against Group 'C' and 'D' staff arising out of
Vigilance investigation, vide this office letters No. 2006/V-1/Meet/6/1
dated 19.07.2006 (RBV No. 13/2006) and 2010/V-1/Meet/5/1 dated 11.08.2011
(RBV No 10/2011). These instructions were also reiterated vide letter No.
2012/V-1/Meet/5/2 dated 18.10.2012 (RBV No. 6/2012) for compliance.
It has now come to notice that in some Railways. the adequacy of the
quantum of punishment is also being decided in consultation with Vigilance.
lt is clarified that there is no provision in the IR Vigilance Manual for
such a practice Hence in cases where the Disciplinary Authority agrees with
the advice of the Vigilance Department for imposing a major or minor
penalty, there is no further need to consult the Vigilance Department
regarding the quantum of the punishment. It may be noted that DA has to
apply his/her own mind in each case as per common prudence.
This has the approval of PED/Vigilance.
(Rajnish Kumar)
Diractor Vigilance (M)
Railway Board
Cop to :-

i) SDGMs/CVOs of Zonal Railways, Pus & PSUs

ii) All Officers and the Branches of Vigilance Directorate/RB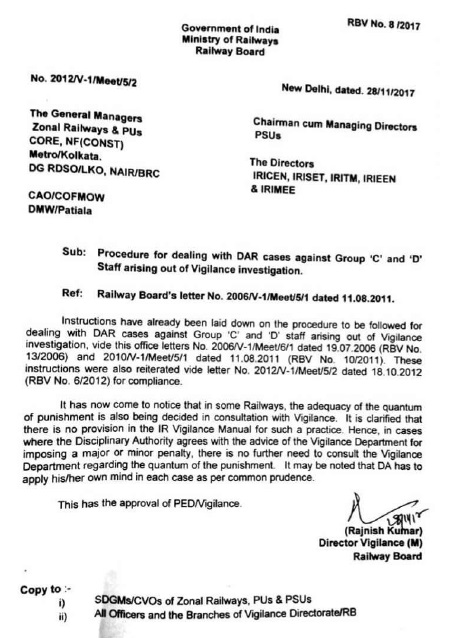 Source : http://www.irtsa.net/