Provision of Laptops to officer – Chart for calculation of the residual value – Railway Board Clarification
GOVERNMENT OF INDIA
MINISTRY OF RAILWAYS
(RAILWAY BOARD)
No.2011/C&IS/Committee/Laptops/Pt.II
New Delhi, 12-02-2020
The Director,
Indian Railways Institute of Electrical Engineering
Nasik Road,
Maharashtra – 422001
Subject :- Clarification on Provision of Laptops to officer in lieu of Desktops
Ref :- 1) Director/ IRIEEN's letter No. NK.IRIEEN.GAZ.LAPTOPS.2019 dt 01.11.2019
2) Laptop Policy No. 2011/C&IS/Committee/Laptops/Pt.II dated 23-01-2012
Please refer to Director/IRIEEN's letter mentioned above seeking clarification whether an officer with less than One year service is entitled for a new laptop as per existing Laptop Policy referred (2) above.
2. in this context, it is pointed out that as per Para 1.1.6 of the Laptop Policy referred (2) above, all Gazetted officers of Railway Units, Railway Board and officers of the other departments posted on deputation to Railway Board or various Railway Units are eligible for Laptops in lieu of Desktops. Hence, a serving officer is entitled to purchase a laptop irrespective of his/her remaining service.
3. The residual value is calculated as per Para 5 of the Laptop policy. However, a chart for calculation of the residual value of laptop for completed month-wise is attached herewith for reference purpose.
Encl. As Above.
(Rajnesh Singh)
Director Mech (C&IS)
Railway Board
Copy to:
The General Managers, All Indian Railways/Production Units – for information.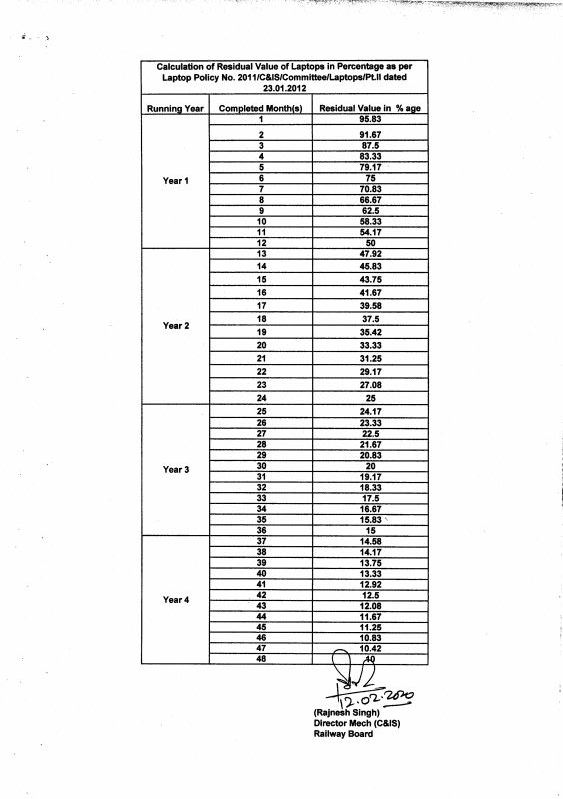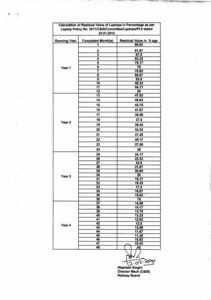 Click here to view/download the PDF
http://www.indianrailways.gov.in/railwayboard/uploads/directorate/cis/downloads/circulars/2020/Clarification%20on%20Provision%20of%20Laptops%20to%20officer%20in%20lieu%20of%20Desktops.pdf