Income Tax Deduction from Salaries During F.Y. 2020-21 (A.Y. 2021-22): PCDA(O) Pune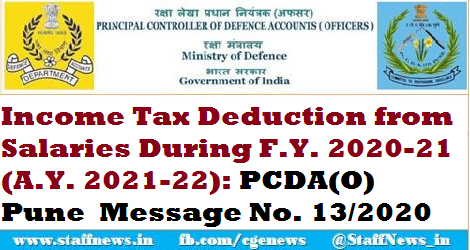 Message No. 13/2020
DEDUCTION OF INCOME TAX AT SOURCE FROM SALARIES DURING
FINANCIAL YEAR 2020-2021 (ASSESSMENT YEAR 2021-2022)
1. Finance bill 2020-2021 enacted vide Govt. of India Gazette notification No. CG-DL-E-27032020-218938 dated 27.03.2020 and CBDT Circular CBDT Circular No. C1 of 2020 F. No. 370142/13/2020-TPL dated 13/04/2020 (copy enclosed to be hyperlinked) notified the provisions for deduction of income tax for the FY 2020-2021 (Assessment Year 2021-2022). The bill provides for option to the tax payer to select old rates of tax slabs with deductions under various sections or for new rates of tax slabs only.
2. A utility for selecting the tax slabs (old or new) has been developed by this Office. Officers who have login-id credentials may use the utility, which is available on the website after login.
View: Ready Reckoner – Comparison of Income Tax for F.Y. 2020-21 under Existing & New Regime i.r.o. Normal, Senior & Super Senior Citizen
3. Officers who don't have login credentials on the website can forward above details from their NIC mail-id on [email protected].
4. In the absence of receipt of any option till 30th Sep 2020, it will be deemed to have opted for old tax slabs.
5. It may please be noted that option once exercised, can't be altered at this end for financial year 2020-21.
Source: Click here to read/view pdf
[https://pcdaopune.gov.in/downloads/message132020.pdf]