CSD- Online AFD Portal: ऐसे ऑनलाइन खरीदें टीवी, फ्रिज और कार, 45 लाख कर्मचारियों को तोहफा
भारतीय सेना और अर्धसैनिक बलों के जवान अब घर बैठे-बैठे सस्ती कीमतों पर टीवी, फ्रीज, कार, लैपटॉप और वॉशिंग मशीन जैसै महंगे प्रोजक्ट्स ऑर्डर कर सकेंगे। दरअसल, इंडियन आर्मी और पैरामिलिट्री फोर्स के जवानों और रिटर्यर्ड सैनिकों को सस्ता सामान बेचने वाली कैंटीन स्टोर्स डिपार्टमेंट (CSD Canteens) अब ऑनलाइन हो गई है। सेना के जवान और रिटायर्ड फौजी अब https://afd.csdindia.gov.in/ पर जाकर ऑनलाइन महंगे सामानों यानी अगेंस्ट फर्म डिमांड प्रोडक्ट्स (AFD Products) ऑर्डर कर सकेंगे। इसके लिए उन्हें कैंटीन जाने की जरूरत नहीं पड़ेगी।
CSD के ऑनलाइन पोर्टल से सेना और अर्द्धसैन्य बलों के 45 लाख मौजूदा और कर्मचारियों का फायदा होगा। इस पोर्टल पर अगेंस्ट फर्म डिमांड की श्रेणी में आने वाले उत्पाद जैसे कार, मोटरसाइकिल, वॉशिंग मशीन, टीवी, फ्रिज, लैपटॉप आदि की खरीदारी की जा सकेगी। रक्षा मंत्री राजनाथ सिंह ने इस पोर्टल को लॉन्च करते हुए कहा कि यह प्रोजेक्ट डिजिटल इंडिया (Digital India) के अनुरुप है।
सभी प्रमुख सैन्य ठिकानों में है CSD कैंटीन
CSD- Online AFD Portal to purchase AFD Items: How to register, Check Eligibility etc.
CSD-AFD Online Portal FAQ: Registering at CSD-AFD, Check Pricese, Payment Options etc.
List of Four Wheelers Listed in CSD as on 10 Oct 2020 – Company-wise Details FCA INDIA, HYUNDAI MOTORS, MAHINDRA AND MAHINDRA, MARUTI SUZUKI, RENAULT, TATA MOTORS etc.
List of Four Wheelers; Diesel/Petrol Car, Jeep, SUV etc. listed in CSD as on 08.11.2020
इस पोर्टल की वर्चुअल लॉन्चिंग कार्यक्रम में रक्षा मंत्री राजनाथ सिंह के साथ चीफ ऑफ डिफेंस स्टाफ जनरल विपिन रावत, नौसेना प्रमुख एडमिरल करमबीर सिंह, वायु सेना प्रमुख एयर चीफ मार्शल आर के एस भदौरिया और रक्षा सचिव अजय कुमार भी मौजूद थे। आपको बता दें कि कैंटीन स्टोर्स डिपार्टमेंट, (CSD), रक्षा मंत्रालय के अधीन भारत सरकार के स्वामित्व वाला उपक्रम है और भारतीय सशस्त्र बलों द्वारा संचालित सभी प्रमुख सैन्य ठिकानों में इसका डिपो है।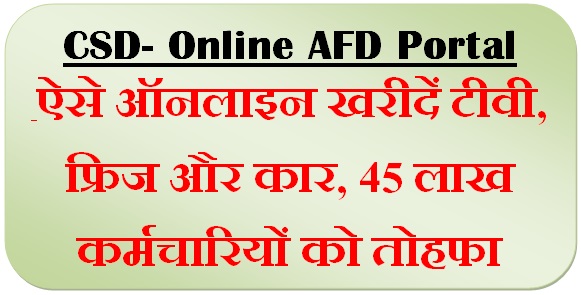 Dearness Allowance hike and DR restoration for central govt employees, pensioners from January 2021; Double-dose of Good news