Career progression of Data Entry Operator Cadre of DRDO, under Ministry of Defence: Item No. 4/19/SC Standing Committee Meeting
AGENDA DISCUSSED DURING THE STANDING COMMITTEE MEETING HELD ON 26.2.2021 – DECISIONS TAKEN
A. Unresolved Items of the Earlier SCM held on 7.3.2019
Item No. and Ministry / Deptt.: Item No. 4/19/SC M/o Defence
Subject

: Career progression of Data Entry Operator Cadre of DRDO, under Ministry of Defence. The clerical staff and storekeepers, conversant with computer, were given the designation of DEO. A separate of DEO was created.

However, they are still in the grade pay of Rs. 2800 whereas the clerical staff, which joined duties during the year 2000 have got the grade pay of Rs.4200 now. Further, the Grade pay of Rs.5400 for the post of Administrative Officer is only to the Administrative Staff and not to DEO.

Decision in the Meeting of 7.3.2019: The representative of Ministry of Defence/ DRDO stated that the comments of DoPT, Establishment (RR) are still awaited. The matter will be decided once DoPT provides their suggestions/comments.

Staff Side informed that there is huge stagnation in the cadre of Data Entry Operators and the employees working in the cadre are in the age group of 50 or more. Because of the stagnation, the employees working in this cadre retires even without reaching grade pay of 4600 /- Therefore, it may be considered that the DEO Cadre are treated at par with the Administration and Allied Cadre of DRDO so as to give them promotional opportunities. Further, there are no new recruitment in the
cadre and it will be a onetime measure for career progression in respect of Data Entry Operators. The Staff Side requested MoD to consider the matter urgently.

Chairman directed representative of M/o Defence/ DRDO to take note of it and assured the Staff Side that the matter will be looked into.

Status as on 25.02.2021: Ministry of Defence has informed through their letter dated 1102.2021 that the issue of recommendation of Seventh CPC with regard to EDP were submitted on 29.11.2016 and 13.12.2017. Reminders also sent to DoP&T on 03.08.2018 and 07.08.2019 Decision awaited.

Establishment (RR), DOPT informed through their letter dated 23.02.2021 that as per RRFAMS portal, no proposal is pending with Estt.(RR) in respect of amendment of RRs for the post of Administrative Officer in DRDO as on date.

Hence, no further action required on the part of Estt,(RR), DOPT

Discussions/Decision on 26.02.2021: The Staff Side stated that their request was to give 25% quota in promotion for the promotion of DEO Cadre to Admin officer and that they never requested for LDCE for DEO to become Admin Officer.

It was agreed that the  MOD/DRDO would discuss the matter with the Staff Side and come up with a revised proposal.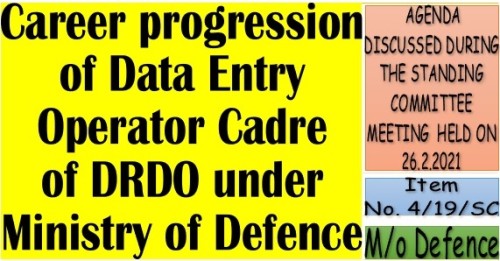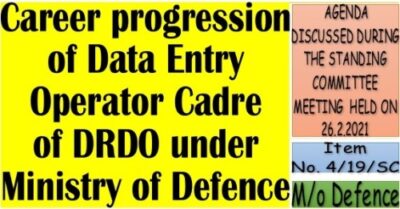 View other Items of Standing Committee Meeting: