Recognition of Technical Diploma Course obtained through Distance Education Mode for LDCE for higher post with GP 4200/-(Level 6 of 7th CPC): Item No. 4/19/SC Standing Committee Meeting
AGENDA DISCUSSED DURING THE STANDING COMMITTEE MEETING HELD ON 26.2.2021 – DECISIONS TAKEN
A. Unresolved Items of the Earlier SCM held on 7.3.2019
Item No. and Ministry / Deptt.: Item No. 5/19/SC M/o Defence
Subject

: Recognition of Technical Diploma Course in different discipline of Engineering / Technology obtained through Distance Education Mode for the purpose of LDCE to the Departmental Candidates for appearing for higher post with Grade Pay Rs. 4200/- (Level 6. of 7th CPC)

Decision in the Meeting of 7.3.2019: Representative of Ministry of Defence informed that this item is not agreed to and DRDO is in the process of framing of New Recruitment Rules, for the same.

Staff Side stated that the decision of not recognizing Distance Education Diploma Courses for appearing in LDCE Examination will demoralize the existing employees for joining higher courses and acquiring qualifications, which will be beneficial not only to the individual but also to the organization. Even in such instance when the individual acquires a Diploma, he still has to appear for the LDCE Examination and qualify. Therefore, DOP&T may consider this aspect and issue a general instruction to all Ministries to recognize Diploma in Engineering acquired through Distance Education Mode from a govt. recognized institution/university.

Status as on 25.02.2021: Ministry of Defence informed through their letter dated 11.02.2021 that the validity of Technical Diploma Course falls under the mandate of MHRD/AICTE in the case of DRDO, necessary instruction regarding validity of technical Diploma obtained through distance education mode has been promulgated vide letter No.DHRD/76237 /drtc/Misc/C/M/01 dated 31.01.2020 as per guidelines issued by MHRD/A/CTE.

This item may be treated as closed.

Discussions/Decision on 26.02.2021: After thorough  discussions, the Staff Side requested that the AICTE may be asked to have a qualifying examination for such candidates as have acquired Diploma qualification through distance education mode and the employees who pass the examination may be made eligible to participate in LDCE.

It was finally decided that this request of the Staff Side would be considered after having discussion with AICTE. Hence, the Ministry of Defence has to discuss the matter with AICTE and take a final decision in the Departmental Council. The matter may be treated as closed from the agenda of the Standing Committee.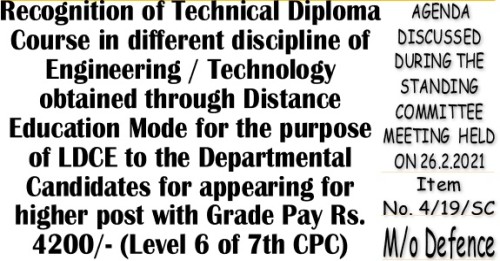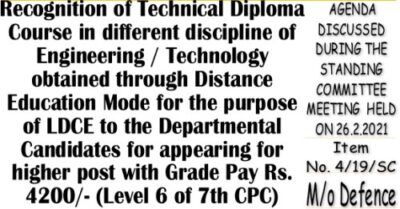 View other Items of Standing Committee Meeting: