Correlation of the hourly rates of Industrial Workers of Ordnance Factories based on 6th CPC pay scale w.e.f. 01.01.2006: Item No. 8/19/SC Standing Committee Meeting
AGENDA DISCUSSED DURING THE STANDING COMMITTEE MEETING HELD ON 26.2.2021 – DECISIONS TAKEN
A. Unresolved Items of the Earlier SCM held on 7.3.2019
Item No. and Ministry / Deptt.: Item No. 8/19/SC M/o Defence
Subject

: Correlation of the hourly rates of Industrial Workers of Ordnance Factories based on 6th CPC pay scale w.e.f. 01.01.2006.

After 6th CPC, in production units, hourly rates of industrial workers were corelated to basic pay of Rs.7100/-. However, they were made applicable from Feb. 2014. Employees are demanding from 1.1.2006.

Decision in the Meeting of 7.3.2019: The Representative of MoD, Deptt. of Defence Production stated that the matter has been considered in consultation with Department of Expenditure and decision was taken to the effect that it may not be agreed. Staff Side raised their objection on this and stated that there was a huge delay in examining the matter based on the recommendation of 6th CPC in 2008, and hourly rates of Industrial Workers were revised in 2014 and these rates are from prospective date.  But, after so many years of delay, now it is informed that the matter has not been agreed to by' the Department of Expenditure. They further informed that after the implementation of 7th CPC w.e.f. 01/01/2016, till date, the hourly rate of the Industrial workers of Ordnance Factories is not yet correlated and still pending with MoD. Such delay results in huge loss to the Industrial Workers.

Chairman assured that Joint Secretary (Personnel), D/o Expenditure has agreed to re-examine this issue again.

Status as on 25.02.2021: Ministry of Defence Department of Defence Production informed through their letter dated 16.02.2021 that the demand of Staff Side/AIDEF was rejected by the Department of Expenditure, Ministry of Finance' on 19.09.2017 Workers Union of Ordinance Clothing Factory, Avadi had challenged this order in Hon'ble CAT, Madras.

Since the Matter is sub-judice, it was decided that fresh proposal for reconsideration by the D/o Expenditure will be initiated after outcome of the case in Hon'ble Tribunal which is still awaited

Discussions/Decision on 26.02.2021: It was agreed upon by the both the parties that the aspects of 6th CPC may not be touched upon; the matter being sub-judice. The Staff Side stated that for 7' CPC, the Ministry of Railways has revised the same long back but the Ministry of Defence (Department of Defence Production) has not done the same so far. The Staff Side informed that the 6th Pay Commission pay formula is to be carried forward to the 7th Pay Commission.

It was agreed upon by both the sides that the matter may be discussed in the Ministry of Defence in their Departmental Council.

Hence, the item may be shifted from the agenda of the Standing Committee to the agenda of the Departmental Council.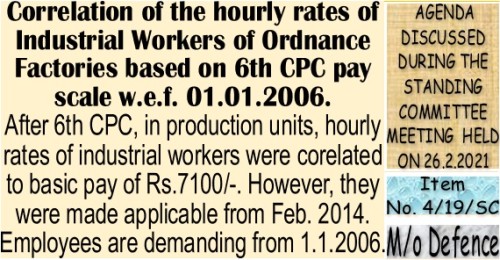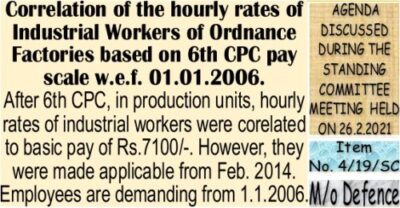 View other Items of Standing Committee Meeting: