Educational Qualification for recruitment of MTS and MTS (Tradesman Mate) in the Ministry of Defence
AGENDA DISCUSSED DURING THE STANDING COMMITTEE MEETING HELD ON 26.2.2021 – DECISIONS TAKEN
New Agenda items for the meeting of Standing Committee (received on 08.02.2021)
Agenda Item No. and Ministry / Deptt.: 19/21/SC M/o Defence & Estt : RR, DOPT

Brief

: Educational Qualification for recruitment of MTS and MTS (Tradesman Mate) in the Ministry of Defence
Comments from concerned Ministry/Department: Establishment (RR), DoPT has informed through their letter dated 18.02.2021 that the DoPT vide OM No. AB-14017/6/2009-Estt(RR) dated 30.04.2010 issued model Recruitment Rules for Group C posts with Grade Pay Rs.1800 which is as follows:
Matriculation or equivalent pass
OR
ITI pass
*May be adopted as per special requirements of the post, if any.
Therefore, in terms of Model RRs, it is for Ministry of Defence to prescribe appropriate qualifications in the RRs. Moreover, being Group 'C' post, approved of DoPT is not required to be sought by M/o Defence while framing/ amending the RRs, unless there is a deviation from the Model RRs. Hence, no action is called for from Establishment ( RR).
Decision/ comments in the meeting of 26.2.2021: The staff side requested that DoPT may issue instructions in this regard to MoD to amend the qualifications recruitment of MTS (Tradesman Mate) as Metric or ITI. AS(E) , DoPT agreed to look into the matter.
---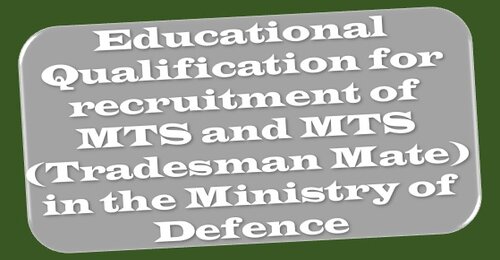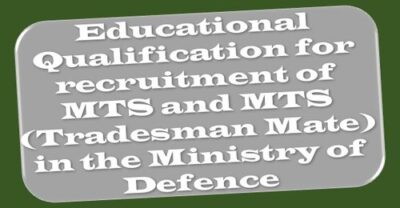 View other Items of Standing Committee Meeting: