Ensure effective functioning of the Joint Consultative Machinery: JCM meetings may be made as statutory responsibility
AGENDA DISCUSSED DURING THE STANDING COMMITTEE MEETING HELD ON 26.2.2021 – DECISIONS TAKEN
New Agenda items for the meeting of Standing Committee (received on 08.02.2021)
Agenda Item No. and Ministry / Deptt.: 16/ 21/ SC Estt: DoPT, JCA
Brief

: To ensure effective functioning of the Joint Consultative Machinery.
The Staff Side has requested holding of JCM meetings, may be made as statutory responsibility, of every Ministry / Deptts. for effective use of JCM Scheme.
Comments from concerned Ministry/ Department:
Decision/ comments in the meeting of 26.2.2021: It was informed that a Time-Table in this regard has already been issued. A copy of the same will be made available to the Staff Side.
---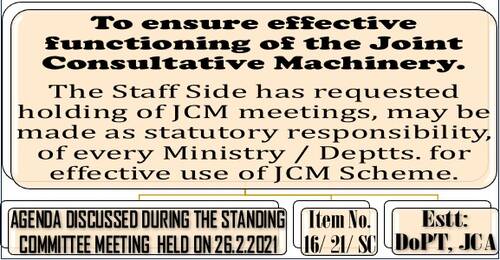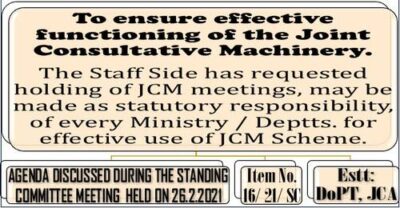 View other Items of Standing Committee Meeting: