Implementation of awards of Board of Arbitrations, by Government of India: Standing Committee Meeting
AGENDA DISCUSSED DURING THE STANDING COMMITTEE MEETING HELD ON 26.2.2021 – DECISIONS TAKEN
New Agenda items for the meeting of Standing Committee (received on 08.02.2021)
Agenda Item No. and Ministry / Deptt.: 17/ 21/ SC Estt: DoPT, JCA
Brief

: Implementation of awards of Board of Arbitrations, by Government of India.
The Staff Side has requested to expedite action for dialogue, to resolve the issue relating to Awards.
Comments from concerned Ministry/ Department:
Decision/ comments in the meeting of 26.2.2021: It was informed by the Office Side that a separate meeting with the staff side, on the subject, would be called shortly.
---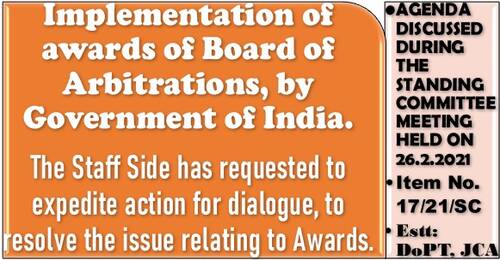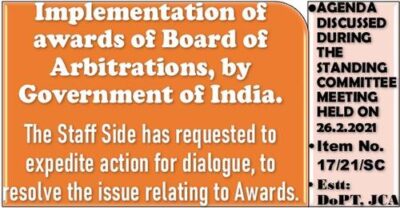 View other Items of Standing Committee Meeting: