Inadequate medical facilities & conditions imposed for recognition of Referral Hospitals by the Indian Railways: Item No. 49/19/SC Standing Committee Meeting
AGENDA DISCUSSED DURING THE STANDING COMMITTEE MEETING HELD ON 26.2.2021 – DECISIONS TAKEN
A. Unresolved Items of the Earlier SCM held on 7.3.2019
Item No. and Ministry / Deptt: Item No. 49/19/SC M/o Railways
Subject

: Inadequate medical facilities & conditions imposed for recognition of Referral Hospitals by the Indian Railways

Decision in the Meeting of 7.3.2019: Ministry of Railways has informed through their letter dated 20.01.2020 thatas per the minutes of the meeting, Secretary, Staff Side has considered this Item as closed.

Status as on 25.02.2021: This item treated as closed.

This item may be treated as closed.

Discussions/Decision on 26.02.2021: Both the sides agreed to treat the item as Settled.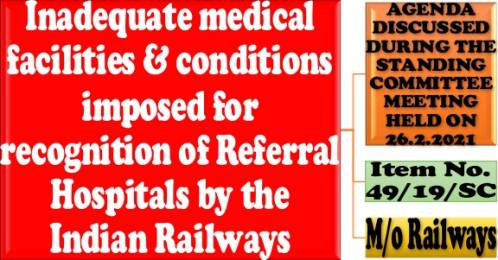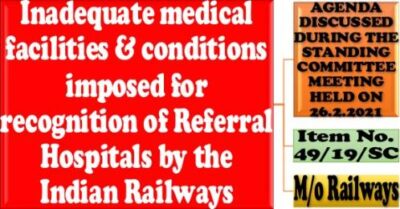 View other Items of Standing Committee Meeting: