NPS Functionalities released by CRAs during Quarter I of FY 2021-22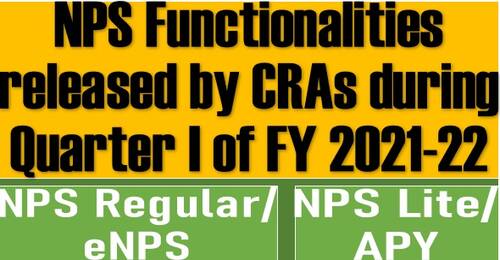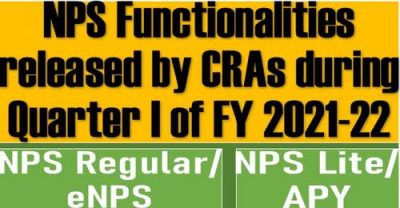 PENSION FUND REGULATORY
AND DEVELOPMENT AUTHORITY
B 14 A.Chhatrapati Shivaji Bhawan
Outab Institutional Area
Katwana Sarai New Delhi-10016
CIRCULAR
No PFRDA/2021/37/SUP-CRA/15
September 2, 2021
To,
All NPS stakeholders
Subject: NPS Functionalities released by CRAs during Quarter I of FY 2021-22
The Central Record Keeping Agencies (CRAs) appointed by PFRDA develop system level functionalities as per the evolving needs of NPS stakeholders in accordance with Section 21 of PFRDA Act 2013.
NPS Functionalities released during Quarter IV of FY 2020-21: PFRDA
CRAs have tile responsibility to develop new functionalities or utilities, establish new processes, offer multiple models of interface for the uploading offices in order to provide maximum flexibility in terms of operation for the benefit of the subscribers as an ongoing exercise to fulfil their obligations which ultimately benefit the Subscribers.
The functionalities which are developed and made available by CRAs (Refer Annexure I and II) during Quarter I of the current FY 2021-22 are categorized as under –
i. NPS Regular / eNPS
ii. NPS – Lite/ APY
The circular is placed in the intermediary section of CRA on PFRDA website, for the information of all NPS stake holders.
For additional technology based solutions or improvement in the existing digital interface, kindly write to the undersigned or Mr. A. Ramesh Kumar (ramesh[dot]kumar[at]pfrda[dot]org[dot]in).
(K. Mohan Gandhi)
Chief General Manager
Annexure II – Functionalities released by NSDL CRA during Q1 of 2021-22
Sr. No.
Name of Development/ Functionalities

Description

NPS Regular/ eNPS

 1

Nominee updation

Option to Add/ Update Nomination details online directly by Subscriber (through paperless manner) has been enabled in the CRA system earlier.
Now, Nomination request of Corporate Subscribers will be authorized by his/ her employer in CRA system.

 2

Re-KYC

If subscriber's KYC has been rejected due to Address mismatch by the POP then subscriber can opt for ReKYC by Aadhaar Offline XML. In this case, subscriber's KYC details will be fetched from offline XML ZIP file uploaded by subscriber.

 3

Annuity Service Provider (ASP) & Annuity Scheme Selection

At the time of initiating the exit request in CRA,ASP selection is on the basis of Age & Corpus; while scheme selection is on the basis of Marital status. Now, the scheme selection will also include Age along with Marital status of the Subscriber.
Now the scheme selection will be allowed as per the minimum Age & Corpus of the respective ASP.

4
Smart Exit Guide

Smart Exit Guide facilitates Subscribers to take well informed decision based on associated benefits
2. The annuity quotes/schemes being displayed in

Annuity Calculator in CRA

as well on CRA corporate website will be displayed under criteria with ROP/ without ROP.

The same will facilitate the Subscriber/ Nodal Office to view schemes wherein there is Return of Purchase Price (ROP) and schemes without ROP.

5

Aadhaar Vault

1. As per UIDAI guidelines, Aadhaar Vault has been developed for storing Aadhaar details of the Subscribers.

2. Aadhaar Vault has been integrated in eNPS platform and Subscriber Registration has been enabled through online Aadhaar eKYC.

 6

Generation of Subscriber Registration Form (PDF)

Generation of Subscriber Registration Form (PDF) after every registration in CRA. As of now, form will be generated on the basis of latest details available in CRA records and it will be made available in Subscriber login

7.

Subscriber Alerts on credit timelines

At the time of Contribution and PFM/ Scheme preference change through Subscriber login, pop-up message regarding credit timelines will now be displayed to the Subscriber.

8.

Subscriber Alerts on Type/Contribution

At the time of contribution through eNPS, alert messages are being shown with Tier type and Contribution amount (in numbers and words) to Subscribers.

9.

Enablers during Withdrawal by Nominee/ Legal Heirs due to unfortunate death of Subscribers

New Withdrawal from Death Withdrawal request for the following has been enabled:

(A) Govt. sector Subscribers,
(B) Non-Govt. sector Subscribers,

At the time of withdrawal request initiation, existing nomination details will be displayed and the same will non-editable.
If a person claiming NPS Corpus is other than the registered nominee/ s then Nodal Office is required to capture their details as Legal heir and not as nominee.

10.

Sharing of Soft copy of NPS account opening form

The Subscribers who are registering in CRA through eNPS, OTP Authenticated/ eSigned registration forms will be sent as an attachment to their registered email ID, upon successful registration.

11.

Mobile App – Alerts

At the time of PPM/Scheme Preference Change through Mobile pp, pop-up message regarding credit timelines is displayed to the Subscriber.

12.

NPS Regular / Mobile App – Scheme Preference Change

PFM change once and Investment choice/Scheme preference change twice in a Financial Year has been enabled for Government Sector Subscribers.

13

eNPS – Additional option of Payment Gateway Service Provider (PGSP)

Integration of Razor-pay as PGSP

14

Alert at the time of One Way Switch

At the time of making one-way switch request in CRA, an alert will be displayed about contribution in Tier I that it is non-withdrawable account and the redemption amount (in numbers and words)

15

NACH Mandate

NACH Mandate registration and contribution remittance by Nodal Offices which is,

Another easy mode of transferring contribution amount to Trustee Bank (TB)
Submission of Mandate Registration Form by Nodal Office to C:RA through email
Submission of Mandate Registration Form by CRA to TB
Confirmation of Mandate Registration by TB to CRA/ Nodal Office
Auto Debit of Bank Account of the Nodal Office post upload of SCF

The information is exchanged conveniently through emails.

16

Higher Contribution m Govt Sector – 1.4 times of employee contribution

Following validations have been added in CRA at the time of contribution for Govt. Nodal Offices:

Employer contribution to be 1.4 times of employee contribution

 17

 Building Transparency by Display of Charges Transaction Statement

1. In online Transaction Statement, at notes section, a link has been provided to view charges in NPS.

2. When User clicks the link, he/she will be redirected to a webpage wherein various charges applicable in NPS are displayed.

 18
 Inbox Notification

1. Inbox notification available in Nodal Office login to re direct the users to download / view and take action on all pending requests.

2. Now, an option will be provided to authorize the requests directly through this screen.

19

Registration forms in Document Management System (OMS)

1. Subscriber Registration Form will be generated in PDF on the basis of details provided by the Subscriber at the time of registration.

2. Registration forms generated will also be available in the OMS for view. Subscriber and Nodal office can login into CRA system and will able to view registration form PDF through view OMS document upload functionality.

NPS Lite/ APY

 20
Active Bank Account Flag in APY Exit file format

APY Service Providers (APY-SPs) upload the online exit file inCRA system for Subscribers exiting APY.
Now, following fields have been added in the APY Voluntary Exit file format:

Active Bank Account Flag
Reason for Exit

The above changes ensure timely credit of APY Account closure proceeds to benefit the Subscribers.

 21
Changes in Withdrawal Account File shared to Trustee Bank

Withdrawal Account File (WAC) is a system generated xml file which is used to provide fund transfer instructions to Trustee Bank.

Generation of common WAC file having data of all the redemption from the system – CRA, NPS Lite withdrawals as well as ERM. Earlier three WACs were generated – CRA, Lite and ERM.