Revision of CGHS Contribution as per 7th CPC will be effective from 01.02.2017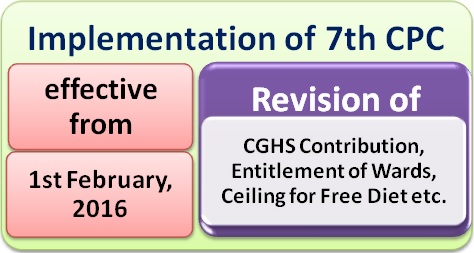 No. S.11011/11/2016- CGHS (P)/EHS
Government of India
Ministry of Health and Family Welfare
EHS Section
****
Nirman Bhawan, New Delhi
Dated the 13th January, 2017
OFFICE MEMORANDUM
Sub: Revision of rates of subscription under Central Government Health Scheme due to revision of pay and allowances of Central Government employees and revision of pension/ family pension on account of implementation of recommendations of the Seventh Central Pay Commission.
In partial modification to this Ministry's OM of even No. dated 9th January, 2017 on the subject mentioned above, the undersigned is directed to say that the revised rates will be effective from 1st February 2017 instead of 1st January, 2017.
[Click here to view Implementation of 7th CPC: Revision of CGHS Contribution, Entitlement of Wards, Ceiling for Free Diet etc. ##eye##]
2. Other contents of the above said OM will remain unchanged.
sd/-
(Sunil Kumar Gupta)
Under Secretary to the Government of india
Source:
THIS CONTENT IS PREMIUM
Please share to unlock