Payment of (i) Restoration of commutation amount and (ii) Additional Pension on attaining the age of 80 Years should be streamlined by the Banks: ATR on minutes of 28th SCOVA meeting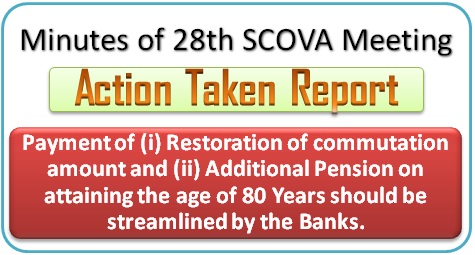 Ministry of Personnel, Public Grievances and Pensions
(Department of Pension & Pensioners Welfare)
S.No

Issue

Discussion held during previous meeting

Action Taken

12

(28.8) of the minutes:-


Payment of (i) Restoration of commutation amount and
(ii) Additional Pension on attaining the age of 80
Years should be streamlined by the Banks.


It was informed that there is an inbuilt mechanism in the
software of all the banks for automatic restoration of
commutation and payment of additional pension on attaining
80 years of age.

Secretary(P&PW) asked CPAO to obtain reports from the
Banks to check whether restoration of commutation amount
and payment of additional pension to old pensioners is
being done automatically and in time.

(Aution: CPAO)

CPAO

Vide OM No.CPAO/Tech/Bank Performance/2015-16/45, dated 02 nd June, 2016 CPAO has issued instructions
regarding restoration of commuted portion of pension after
15 years from date of payment of commutation and payment of
additional pension on attaining the age of 80 years both
automatically. The same was also reiterated to the banks in
the meeting with the Banks on 22.08.2016. In the meeting it
was also decided that:-

(i)As per the note below the Special Seal Authority
(SSA)/Pension Authorization order and Guideline No.23 on
the reverse of the SSA issued by CPAO to banks that such
restoration and additional pension have to be
restored/started by banks automatically.

(ii) All CPPCS have been directed to submit the compliance
report of above e-mail on monthly basis and instructions in
this regard have been issued by CPAO vide OM dated
02.12.2016.