Grant of benefit of pay fixation at time of promotion to Postmaster Grade-I
No. 20-27/2015-SPB-II
Government of India
Ministry of Communications
Department of Posts
(Personnel Division)
Dak Bhawan, Sansad Marg
New Delhi-110001
Dated 15 October, 2018
To
All Head of Circles
All Head of Regions
Subject: Grant of benefit of pay fixation at time of promotion to Postmaster Grade-I.
Sir/Madam,
I am directed to refer to this office letter of even no. dated 20.08.2018 vide which 3% fitment benefit of pay was allowed to such official who availed MACP scheme and subsequently promoted to Inspector Posts through Limited Departmental Competitive Examination (LDEC). Subsequently, references received for extending the same benefit to such official, who availed MACP scheme and thereafter promoted to Postmaster Grade-I through LDCE have also been examined in consultation with Establishment Division of the Directorate. Accordingly, it is conveyed that Postmaster Grade-I is not a regular promotion hierarchy of Postal Assistant and they become Postmaster Grade-I only on attaining merit in competitive examination. As such, 3% fitment benefit may also be allowed to such official at the time of fixation of pay on promotion to the post of Postmaster Grade-I even after availing financial upgradation under MACP.
Yours faithfully
Sd/-
(Satya Narayana Dash)
Assistant Director General (SPN)
Copy to:
a) Sr. PPS to Secretary (Posts)/DG(PS)
b) PPS/PS to all Members of Postal Service Board
c) All GM (P&F)/Director of Accounts (Postal)
d) ADG(Estt), Dak Bhawan, New Delhi for considering issuance of any further specific instruction.
e) GM, CEPT Mysore with request to upload this on India Posts website.
f) Guide file.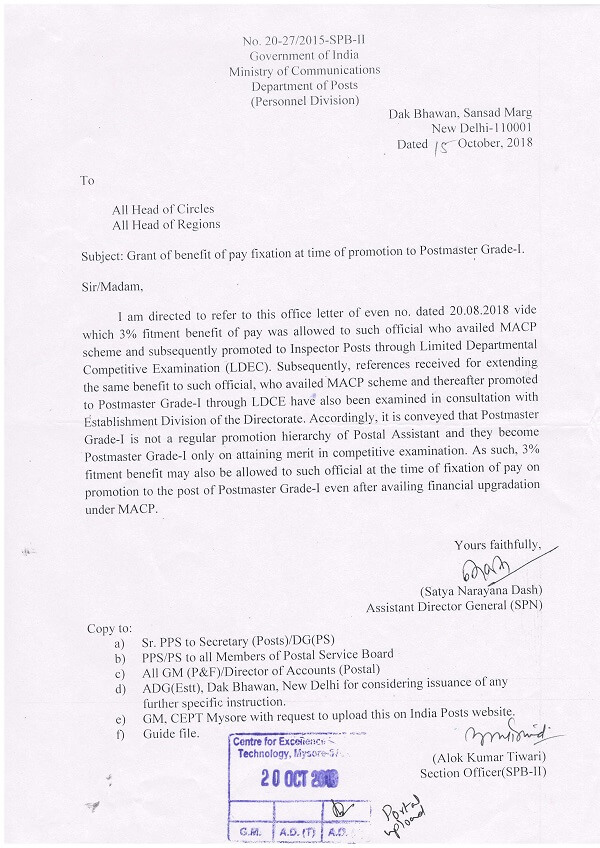 Source: Click here to view/download the PDF
[http://utilities.cept.gov.in/dop/pdfbind.ashx?id=3025]
UPDATE: Withdrawn: Grant of benefit of pay fixation at time of promotion to Postmaster Grade-I