'Designated Officer' to decide compensation of Rs.10 Lakh for death due to COVID 19 i.r.o GDS and all Postal Employees
No.100-4/2020-Pen.
भारत सरकार/ Government of India
संचार मंत्रालय/Ministry of Communications
डाक विभाग/ Department of Posts
पेंशन अनुभाग/ Pension Section
डाक भवन Dak Bhawan, संसद मार्ग /Sansad Marg
नई द‍िल्‍ली/ New Delhi — 110 001
Dated: 09th June, 2020
To,
1. Heads of all Postal Circles
2. Chief General Manager (BD)/Parcel/PLI Directorate
3. Director, Rafi Ahmad Kidwai National Postal Academy, Ghaziabad
4. Chief Engineer (HQ), Dak Bhawan
Subject: Provision to extend benefit of payment of compensation of Rs.10 lakhs to all Departmental employees of Department of Posts and all categories of Gramin Dak Sevaks (GDS) to cover death due to COVID-19 while discharging official duties — appointment of 'Designated Officer' — revision — reg.
Madam' Sir,
I am directed to refer to this Department's letter of even number dated 21.05.2020 (copy enclosed) vide which Director(Welfare), Department of Posts was appointed as 'Designated Officer' for receiving, processing and disposal of claims.
2. In supersession of the above, the competent authority has approved appointment of Director (Establishment), Department of Posts, Dak Bhawan, New Delhi – 110001 as 'Designated Officer' for the above-said purpose.
3. All Circles are requested to submit all claims of compensation accordingly.
Yours faithfully,
( Dr. Vincent Barla)
Director (Establishment)
Copy for information to:
1. PPS to Secretary (Posts)/DG(Posts).
2.PPS to Member (Banking& DBT)/Plg.& | HRD/Tech./Pers./Ops./PLI/ Addl. DG(Cord.).
3. AS&FA/ Sr. DDG (PAF).
4. Secretary (PSB)/All DDsG.
5. All Regional Postmasters General/GM(F)/DA(P)/DDA(P).
6. All Postal Training Centres.
7. Director, CEPT Mysore-for uploading on the website of the Deptt. of Posts.
8. Guard File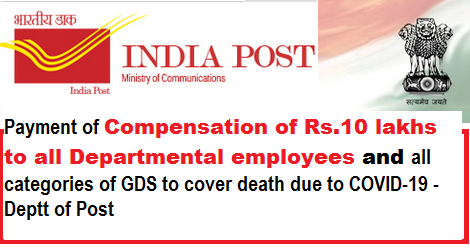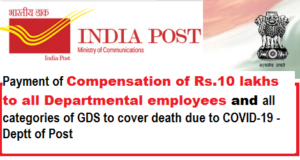 Source:  http://utilities.cept.gov.in/dop/pdfbind.ashx?id=4548