7th CPC National Anomaly Committee Decision – At least 2 increment on promotion: DOE agreed to reconsider it
AGENDA DISCUSSED DURING THE STANDING COMMITTEE MEETING HELD ON 26.2.2021 – DECISIONS TAKEN
New Agenda items for the meeting of Standing Committee (received on 08.02.2021)
Agenda Item No. and Ministry / Deptt.: 2/ 21/SC Estt: DOPT(Pay)
Brief

: Non-implementation of decision taken in the 7th CPC National Anomaly Committee meeting held on 17/07/ 2018 on the item no. 4, on fixation of pay on Promotion.
The Staff Side has requested to grant atleast two increments, while on promotion / MACP, under FR-22(C).
Comments from concerned Ministry/ Department: Establishment Pay Division, DoPT informed through their letter dated 23.02.2021 the anomaly occurred on account of the demand of Staff Side to grant at least two increments on promotion. Staff Side claimed that after 7th CPC, the promotion benefit is restricted to only one increment. Amendment to the relevant provisions of CCS(RP) Rules 2016 is under examination in consultation with D/o Expenditure.
Decision/ comments in the meeting of 26.2.2021
The Staff Side stated that during the 5th & 6th CPC, at each promotion, atleast one increment plus some extra benefit was ensured . However, in the 7th CPC, only one increment is recommended. Hence, the employees are the loser. AS(Pers), DOE agreed to reconsider it.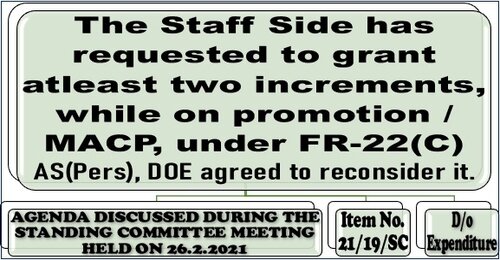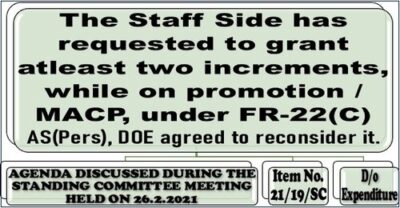 View other Items of Standing Committee Meeting: