Option to switchover to sixth CPC Pay Scale, to those employees, who are subjected to the benefit of entry pay
AGENDA DISCUSSED DURING THE STANDING COMMITTEE MEETING HELD ON 26.2.2021 – DECISIONS TAKEN
New Agenda items for the meeting of Standing Committee (received on 08.02.2021)
Agenda Item No. and Ministry / Deptt.: 12/ 21/SC D/o Expenditure

Brief

: Option to switchover to sixth CPC Pay Scale, to those employees, who are subjected to the benefit of entry pay, in accordance with D/o Expenditure OM No. 8-23/ 2017-E.III dated 28th September 2018.
Request to issue a clarification to all the Ministries/ Departments for extending the benefit of option, to switch over to 6th CPC pay scale from 1-1-2006 and also to get their pay fixed m the entry pay on promotion to the higher grade as mentioned m the DoE OM dated 28-9-2018.
Comments from concerned Ministry/ Department:
Decision/ comments in the meeting of 26.2.2021: AS (Pers), Department of Expenditure agreed to re­-examine the matter.
---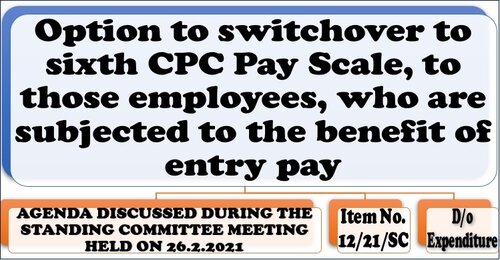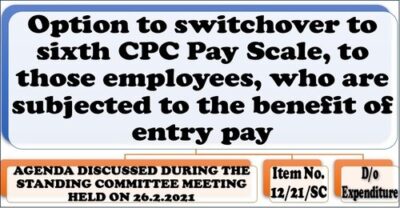 View other Items of Standing Committee Meeting: