Reservation in appointments in posts/service in the Central Government – Compendium of Instructions by DoPT updated on 14.10.2022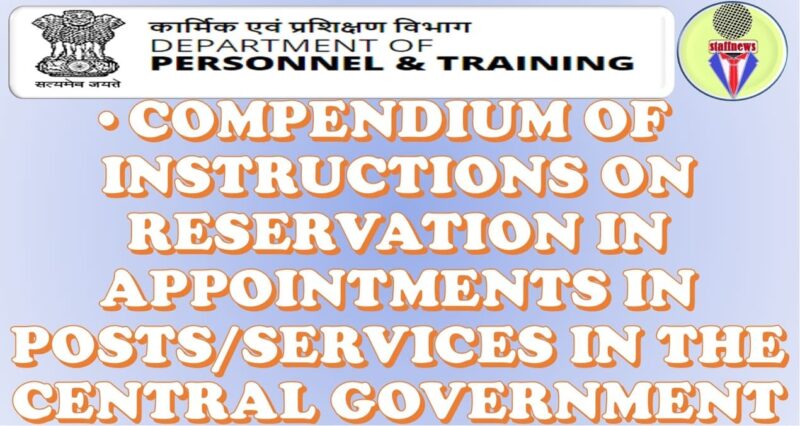 (Updated on 14.10.2022)
F.No.36011/1/2022-Estt.(Res-I)
Government of India
Ministry of Personnel, Public Grievances & Pensions
Department of Personnel & Training Establishment
Estt (Reservation) Division
COMPENDIUM OF INSTRUCTIONS ON RESERVATION IN APPOINTMENTS IN POSTS/SERVICES IN THE CENTRAL GOVERNMENT
Establishment (Reservation) Division of the Department of Personnel and Training has issued various instructions, from time to time, regarding reservation in appointments to posts and services under the Central Government, and concessions/relaxations extended to the persons belonging to Scheduled Castes (SCs), Scheduled Tribes (STs), Other Backward Classes (OBCs), Persons with Disabilities (PwDs), Economically Weaker Sections (EWSs) and Ex-servicemen. With a view to facilitating easy accessibility and clear understanding of these rules on reservation/concessions/relaxations, the relevant instructions on the subject (except Ex-servicemen) have been consolidated, as under:
1. PROVISIONS RELATING TO SCs, STs AND OBCs Click to view
2. PROVISIONS RELATING TO ECONOMICALLY WEAKER SECTIONS (EWS) Click to view
3. PROVISIONS RELATING TO PERSONS WITH BENCHMARK DISABILITY (PwBDs) Click to view
NOTE: THE INSTRUCTIONS RELATING TO EX- SERVICEMEN WILL BE UPLOADED SEPARATELY.
Click here to view/download Compendium