Status on the recommendations of Raksha Mantri's Committee of Experts concerning DESW.
DEPARTMENT OF EX-SERVICEMEN WELFARE (DESW)
STATUS ON THE RECOMMENDATIONS OF THE OF RAKSA MANTRI's COMMITTEE OF EXPERTS CONCERNING DESW
| | |
| --- | --- |
| Total No. of Recommendations | 26 |
| Accepted /Implemented | 05 |
| Accepted in-principle | 01 |
| Partially accepted | 07 |
| Not Accepted | 08 |
| Deferred | 01 |
| Under  Examination/Consideration | 04 |
Sr. No.
Recommendation
Status
1.

2.2.1 DENIAL OF DISABILITY BENEFITS BY INCORRECTLY BRANDING IN-SERVICE DISABI LITIES (DISEASE CASES) AS "NEITHER ATTRIBUTABLE,  NOR AGGRAVATED  BY SERVICE

Partially Accepted
2.

2.2.2 RATIONALIZATION OF DISABILITY BENEFITS FOR 'NON- ATTRIBUTABLE/ NON-AGGRAVATED CASES' ARISI NG OUT OF INJURIES/DEATHS DURING AUTHORIZED LEAVE:

Not accepted,
3,
Accepted.
4.

2.2.4 ILLEGAL DENIAL OF PENSION BENEFITS TO PRE-2006 RETIREE HONORARY NAIB SUBEDARS:

Accepted.
5.

2.2.5 LITIGATION ON DENIAL OF BENEFITS FROM 1996 TILL 2009 TO PENSIONERS (OTHER THAN COMMISSIONED OFFICERS) WHO RETIRED PRIOR TO 10-10-1997

Under consideration.
6,

2.2.6 REQUIREMENT OF 10 MONTHS' SERVICE IN A PARTICULAR RANK TO EARN THE PENSION OF THAT RANK

Partially accepted.
7.

2.2.7 CATEGORIES  OF PENSION  INTRODUCED  BY THE  5th CPC EXTENDED TO POST-1996 AS WELL AS PRE-1996 RETIREES ON THE CIVIL SIDE BUT INAPPROPRIATELY ONLY TO POST-1996 RETIREES ON THE MILITARY SIDE

Not Accepted.
8.

2.2.8 WAR INJURY PENSION TO WORLD WAR II RETIREES DISABLED IN WWII

Not Accepted.
9,

2.2.9 CONDONATION OF SERVICE FOR SECOND SERVICE PENSION FOR DSC PERSONNELs

Not accepted.
10

2.2.10 BROAD-BANDING OF DISABILITY PERCENTAGES FOR THE COMPUTATION OF DISABILITY ELEME NT AND WAR INJURY ELEMENT:

Partially Accepted.
11.

2.2.11 NON GRANT OF SERVICE ELEMENT OF DISABILITY PENSION TO DISABLED PERSONNEL WITH LESS THAN MINIMUM QUALIFYING SERVICE WHO ARE RELEASED FROM SERVICE OTHER THAN BY WAY OF INVALIDATION

Not accepted.
12.

2.2.12 DUAL FAMILY PENSION TO MILITARY WIDOWS WHO ARE DRAWING PENSION FROM A CONTRIBUTORY OR NON-GOVERNMENT SOURCE OR FUND OR TRUST FROM THE CIVIL SIDE, FROM THE DATE OF DEMISE OF THE MILITARY PENSIONERS, RATHER THAN 24-09-2012:

Accepted in-principle.
13.

2.2.13 RESERVIST PENSION TO RESERVISTS RELEASED FROM SERVICE COMPULSORILY PRIOR TO COMPLETION OF PENSIONABLE COLOUR+ RESERVE SERVICE:

Under Examination
14.

2.2.15 NON ACCEPTANCE OF DECLARATION OF BATTLE CASUALTY AND NON-GRANT OF WAR-INJURY OR LIBERALIZED BENEFITS TO CASUALTIES IN OPERATIONAL AREAS:.

Partially Acce pted.
15.

2.3.1 Grant of ECHS facilities to Short Service Commissioned Officers (SSCOs) and Emergency Commissioned Officers (ECOs).
(Partially related to DESW)

Accepted.
16.

2.3.3 Non-inclusion of military pay and other elements of emoluments during fixation of pay on re-employment of military pensioners on the civil side.

.

Not accepted

17.
2.4.1 Collegiate system of decision-making:
Partially Accepted.
18.

Para 2.4.2 : Non-implementation  of decisions and flouting of existing guidelines on implementation of judicial verdicts:

Accepted.
19.

Para 2.4.3 : Overreliance  on MoD  (Finance) and Finance entities for decisions and policy formulation:

Not Accepted
20.

Para 2.4.5 : Lack of availability of correct talent and inputs to DESW and functioning of the Standing Committee for Welfare of Ex- Servicemen:

Partially Accepted
21.

2.4.7  Unnecessary  red-tapism  and  hyper-technical  requirements  of forms,   afffdavits  etc. which  militate  against the spirit of the Hon'ble Prime Minister's vision for citizens:

Under Examination.
22.

2.4.8 Suspect Legality of Pension Regulations, 2008 and Entitlement Rules, 2010:

Under Examination.
23.

Para 7.1: Lateral induction and re-employment

Partially Accepted.
24.

Para  7.5  Issues  related  to  Short  Service  Commissioned   Officers (Partially related to DESW)

Accepted.
25.

7.8. ISSUE RELATED TO OFFICER-CADETS/CADETS DISABLED IN TRAINING ACADEMIES:

Deferred. The matter is being examined in Department of Military Affairs.
26.
7.10     ISSUES CONCERNI NG RETIRED MAJORS:
Not accepted.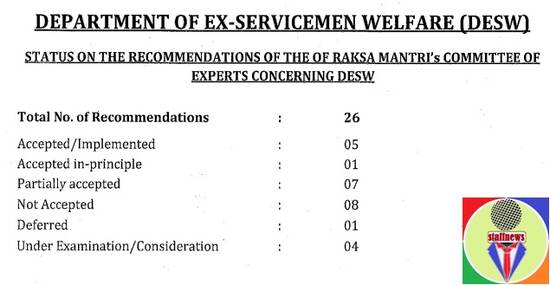 Source: Click here to view/download
[https://www.desw.gov.in/circulars/status-recommendations-raksha-mantris-committee-experts-concerning-desw]